Joined

Aug 22, 2010
Messages

29,680
Reaction score

83,686
Points

853
Location
Trip hasn't been doing well lately. He's lost weight, not eating much and finally just quit eating. I tempted him with raw beef hamburger and steak. I cut the steak in fingernail sizes and hand fed him. He would only eat a small amount at a time. I gave him bread, cornbread, he loves both. He chewed with his mouth opening wide, dropping pieces of food. Depressed? Pain? Bad tooth? I made a vet appointment.
He wasn't having any part of them trying to examine him, so they brought out a muzzle. He wouldn't allow that either, so I took it. I suggested several times that they sedate him. I put the muzzle on him, several times, it failed. After I told them several more times to sedate him, and that when he came to after being neutered, he tried to bite everyone, the vet decided to sedate him. LOL Trip got real relaxed.
They put him on a stretcher to take him to X-Ray. The vet showed me the X-Rays, his stomach was distended, huge, full of gas, his intestines were inflamed, the intestine walls were thickened and full of gas.
Trip had hookworms, but they shouldn't have caused all this. I wormed all the dogs last month.
The vet mentioned the possibility of lymphoma. No way to know for sure without opening him up. Don't really want to do that, as a last resort, but even if we did, there is no cure for him.
Since he was sedated, the vet got the tube she uses on horses and cattle and tubed him. The techs squeezed his belly, releasing a lot of gas. They worked him over, shots of B12, fluids and manipulating more gas out.
Vet said bland diet for couple of weeks, no more steak for Trip. He had a medication for nausea, one for pain and one for hookworms.
@Ridgetop
suggested milk of magnesia so I got some today.
Trip's appointment was at 3:45, we didn't leave until 6:20. The vet and 3 techs stayed after 5, working on Trip. He came to, and was glad to jump in the truck to go home. I fixed him chicken and rice, he ate it up. His belly had to feel better without all that gas in it.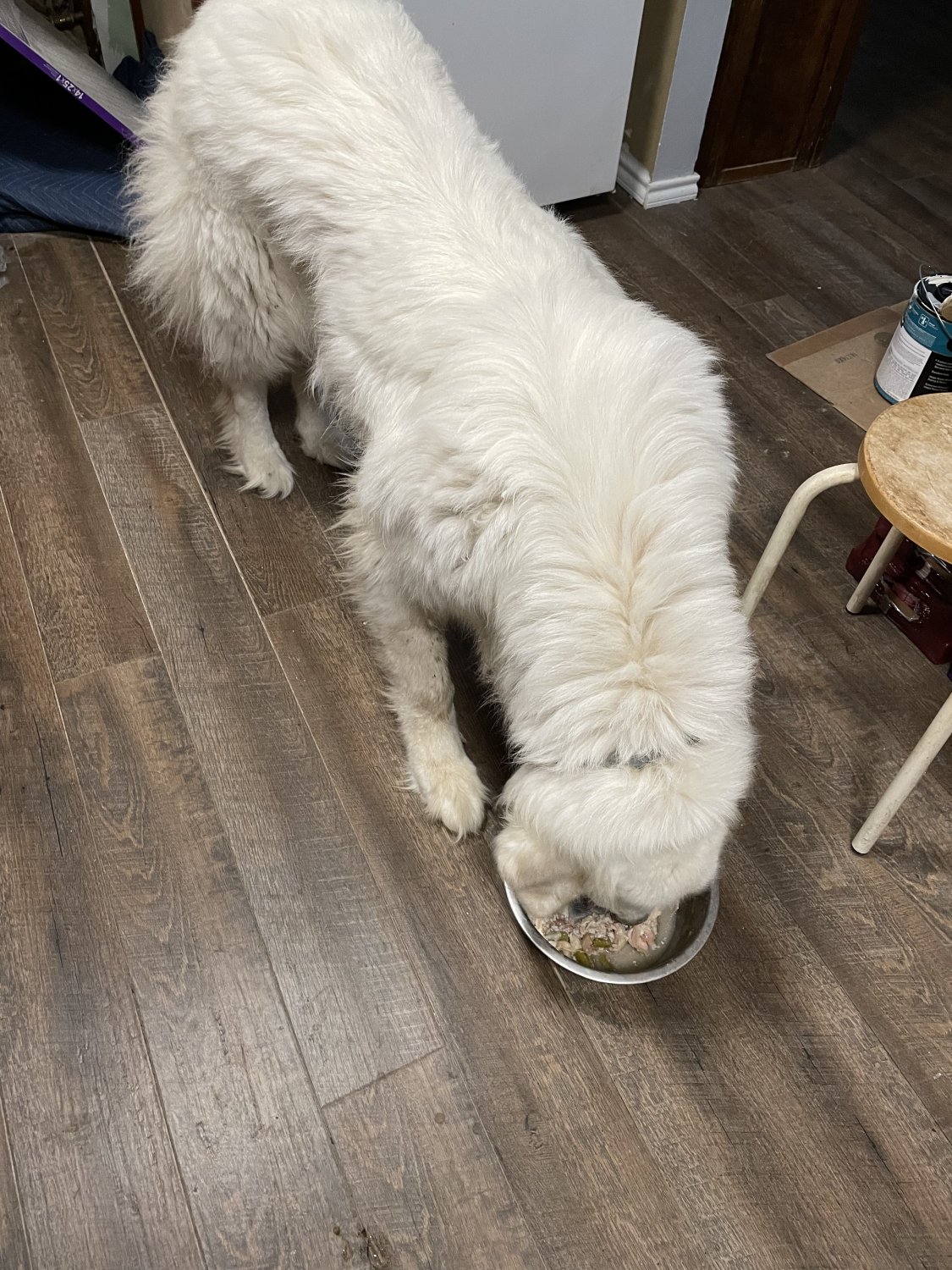 Today I bought 40 pounds of chicken leg quarters and a 20 pound bag of rice. I've cooked 10 pounds, pulled meat off the bones, got 2 half gallon jars of meat and huge pot of broth. Trip had a good lunch.
So this is where Trip and I are at. Does he have lymphoma? I don't know. I'm really hoping it is something else. For the next few weeks, he'll get rice, chicken, broth and medications for nausea, pain and to get rid of the hookworms. He'll get a little milk of magnesia to make sure his intestines are working, the rice should add bulk to help things move along. We'll see how it goes.
I know dogs come with an expiration date, but I figured Trip's expiration date was a few years out, I'm sure hoping so. I've had enough loss, it needs to stop and give me a break.