Joined

Aug 7, 2018
Messages

63
Reaction score

38
Points

58
I have noticed, after jumping through forums a bit, that there aren't a lot of new/recent posts about people showing animals. So, I decided to create this thread for new members like me who would appreciate receiving new knowledge about goat shows. So feel free to posts pics, talk about which shows you've been too, and of course, talk about your goats.
This is my second year showing Angora goats, and my first year showing an angora buck. Last year I caught and the San Antonio calf scramble and received $1,000 certificate. With that, I purchased 2 Angora Nanny's for show and I showed both of them at three shows last yea. I was also given a boer weather doe during the middle of show season. I showed her at two prospect shows and at the next county show, which was her last show. About 3 weeks ago I traded one of my angora nannies for a buck, and I will be breeding them the beginning of September. I plan on showing them for sure at bandera and San Antonio this year.
So we have my nanny Dolly.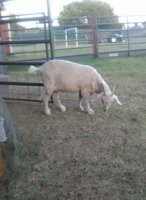 And my buck George.
I look forward to reading everyone else's experiences.