Joined

Jul 4, 2011
Messages

57
Reaction score

69
Points

83
Location
Good morning everyone,
After five long lonely years, I am the proud owner of horses again. I have a lovely little AQHA mare and a pair of mini geldings to keep her company. It's been 25 years since I kept a horse at home. I kept my previous horse in a large boarding facility on the east coast. Now I am back in Missouri, and feeds have changed a lot in the last 25 years.
So I love dressage and trail riding with friends. I can't wait for spring to get here so I can ride my new horse.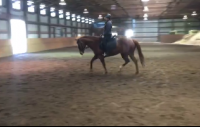 So, what do y'all feed your horses? How do you feel about grain free or low sugar/ starch feeds? Currently I have my herd eating Nutrena SafeChoice and alfalfa pellets, which I soak to create a mash. I have been shocked at how much liquid it soaks up, I am a bit nervous to feed it dry. Oh, and they get free choice grass mix hay.
What about barefoot and using boots on your horses? Do you have any favorite boots?
Sorry for all the questions. I am just super excited and want to make the best choices for my pony herd.