Joined

Jun 3, 2018
Messages

1,728
Reaction score

4,916
Points

313
Location
All,
Many of you may already know this, but I just found a web site that will provide acreage estimates for unusual land plots. I know Google Maps will do this, but this one handles multiple plots. It is provided by my alma mater, Texas A&M, and is called Map My Property. The URL is
http://texasforestinfo.tamu.edu/mapmyproperty/index.html
. It handles more than just Texas, as I was able to map my property in western Arkansas. In using the tool, one thing I learned is that I have a good bit less pasture for hay production than I thought. Of the five fields that can produce hay, one is 16.1 acres, one is 9.8 acres, one is 10.3 acres, one is 2.3 acres, and one is 1.1 acres, for a total of 39.6 acres.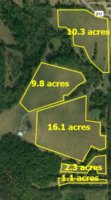 It does not include the 5 acres we set aside for quail/butterfly habitat west of the house, nor does it include the overgrown pastures. Still, I am shocked that I was off by a magnitude of 2. I got the estimate of 80 acres from the legal description for the different tracts of land and added up the estimated parts for pasture. So I guess need to recognize that fact when I negotiate the lease. But I wanted to tell you folks about this web site, in case you didn't know about it, in hopes that it would help you.
Senile Texas Aggie