Joined

Jun 23, 2012
Messages

1,048
Reaction score

1,962
Points

298
Location
I'd been wanting to start a journal for a while now but never really found the time. Well, it's 7am now and the children actually aren't awake yet, giving me much sought after peace and quite.
Much of my journey can be found in different threads but the main parts of my story would probably be
https://www.backyardherds.com/threads/splitting-up-my-7-acres.34780/
https://www.backyardherds.com/threads/new-to-shepherding.34738/#post-453684
https://www.backyardherds.com/threads/installing-hot-wire.36390/
https://www.backyardherds.com/threads/a-bush-to-pull-things-together.37735/
https://www.backyardherds.com/threads/wishful-thinking.37763/page-5#post-551738
A bit of an introduction. I am a stay at home father of 8 children with a wonderful wife who's a nurse. I was born and raised in the city, a bona fide city boy, but must have received my love for nature, animals and the country from my parents who were born and raised in the country, especially my father. It's amazing how much you get from your parents even without realizing it. About 1 1/2 years ago we moved from the city where we could hardly put our hand out our window without shaking hands with our neighbor, to the country, where I can still unfortunately see my neighbor. Nothing against neighbors or people in general, I'm just a rather introspective person who likes to not SEE my neighbors from my porch.
When we found the house it was love at first sight but we both (my wife and I, not my neighbor) knew that there was going to be tons of work involved in getting it fixed up. That was fine with me, as I had done as much as I could at my other house and was honestly getting bored there. We purchased the house and have been working on it since.
First thing needing worked on was making the house into a livable HOUSE and not a drafty barn. We had a fireplace insert installed but couldn't even get the temp past 57F in the winter. After lots of checking and a home audit we found that we were as drafty as the barn outside. That's when I had a company come in and spray insulation foam around the gables of the house along with the roof. Worked a charm! We were now nice and warm during the winter.
Next thing was the fencing. We had always wanted farm animals. In the city we started with 5 chickens which is the max we were allowed. (I hate that.) Then we upped it to 10 chickens....you know, just in case something happened to the other 5 and then finally to 12 chickens...because, you know.....CHICKEN MATH! With continuous bribings of the neighbor with eggs we were allowed our chickens. Plus I mowed their yard and they didn't like mowing. Tit for tat. We then started raising rabbits. They were/are easy and not very noticeable. Afterwards we dabbled in pigeons. I liked raising them but couldn't really get a good breeding program going for them so when I moved out here I haven't had them on the agenda......yet. That, however, was the extent of our homestead. We honestly thought about getting one of those mini cows that don't get much larger than your dog and then putting up a privacy fence but I digress. We had as large a garden as we could make without taking all of our .25 acres and having nothing for the children to play in. (Speaking of children...they are now awake. There goes the peace and quite.
) That was as much as we could have there. Moving to our current house we new things had to increase.
One of those links tells about getting the pasture fenced up. My father came to help and we ALMOST finished the fencing before we went for the sheep. We purchased 3 Awassi sheep, 1 ram and 2 ewes, from a man in Wisconsin, a 10 hour drive from where we live. That was the best 10 hour trip ever. It was just my wife and myself. Anyway, once we get back we still have the rest of the fencing to put up but no where for the sheep. So they decided to keep my lawn mowed....and my flowers (which were here when I moved in) and pretty much anything else that decided to grow.
After the fencing came the lean to on my barn. The barn was built around 1900 and needed a bit of TLC. Ok, more than a bit. The lean to was falling down. The corner post was gone. Seriously, it wasn't there, MIA, KIA, notta, zilch. Now, I don't build houses for a living but I was pretty sure that this particular corner post was needed lol. Fortunately the former residence decided to keep a few telephone poles around the property because....you never know when you're going to need a telephone post?
Anyway, it's a good thing they did because I cut that puppy down to size and, with my wife and children in the hay loft, a rope on the top of the pole, and my tractor bucket lifting the bottom of the pole, we secured it in place!!! Guardian angels work over time that day. Actually, they've been working overtime since moving in here. Think they probably deserve a few weeks vacation time lol.
Back to the lean to.
This doesn't really give a good picture of it since I was actually taking a picture of my garden plots (and apparently my wife) but it does give an impression of what I was dealing with. The inside was being held together by a few 2x4's that they decided to try and buttress up the lean to with. Before we moved in they had used it as a haunted house....I'm sure there were reasons but I can't stand seeing perfectly good buildings be let fall into disrepair when you have the means and capability of repairing them, especially when I know how much hard work, blood and sweat was put into building the things. Seems so disrespectful to me. I needed wood to fix this. I needed roofing to fix this. I need a lot of both to fix this. We are on a very limited budget so buying was out of the question but fortunately there was a tabacco barn right behind us which was falling down as well. The owner of that land actually grew up in the house we bought. The original land I live on was actually around 100+ acres but get partitioned off and we ended up with 7 acres, far more than we ever imagined. I got in contact with him and asked if I could take his barn down to repair the one on my property. He said he wanted a bit of the wood for himself but if we could take the barn down and bring him the small portion of wood, everything else was ours. SOLD! I made sure and take care of him first then worked on getting the rest of the barn down. That's still a work in progress BUT it is down....just not cleaned up. Work in progress I said!!!! I've been going there and getting pieces of wood I need.
Where was I? Lean to. Yesterday we finally got the roof up on it. Where did the metal from the roof come from? The man who let us take down his tabacco barn. The roof didn't come from that barn though. He actually had reroofed a barn near his house, kept the old roofing and gave it to us. Gave. Free. SOLD! (We've been very well taken care of and blessed.) Now all I need to do is put the sides and door up so my sheep won't have to worry about going through a slog full of mud in order to get into the barn at night. (footrot is constantly on my mind).
What else? We wanted to name our property. We wanted it to be very appropriate. We have a very gracious Benefactor. He's taken care of ALL our needs and we really don't have a want. He's a shepherd for us and our family. So we decided to name our sheep homestead after Him. The Good Shepherd Homestead.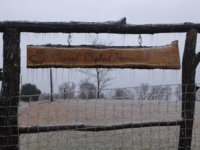 When I moved in there was a full trove of locus trees that needed to be removed. I used those trees for my posts in the fencing but I have tons more left over. I decided to make a sign out of the wood and there it is, at the beginning of our driveway.
I know there is more, electric fencing and such, but with children away, the smell of burning eggs and a crying baby, they will have to wait until I get extra time. In the meanwhile, I'll leave you with a picture of our God given place. Thanks for reading.