Hello All,
I have read a lot of threads on the forum with ideas on building pig pens/shelters which have been very helpful. I thought I would share my pig pen that is just about complete. My plan is to raise to feeder pigs in the spring. Not going to get into breeding or anything like that for right now. Just would like to raise a couple and get some meat in the freezer. One pig will be for my family, and my farrier is going to get the other. We are looking at splitting the cost of the two pigs. I built this pen with just about everything recycled from other projects or reclaimed from other buildings. I had a coworker who had a huge oak tree fall on a small out building at her house. When it hit, it created a huge debris field which I have been picking over for a couple years. Since many things were broken, they were good for bigger projects, but I was able to use a lot in the pen. For me, the good thing of using recycled stuff is the cost. I nice by product is it doesn't all get in the land fill. I even cobbled together enough screws and nails to do the entire project with out going to the hardware store. Basically I had to by mortar/cement, siding and roofing. The rest came from left overs. The building is 10X14. It is divided in half to make a 7X10 shelter for two pigs and a 7X10 feed/storage room. The pigs will have a 32X42 fenced area to move around.
The first couple pictures are of my beginning layout and stone work. The grey building is my existing chicken coop. I had a friend who does solar work and his company had bought a property to install a solar field. As luck would have it, there was a huge cut granite stone fire place outside. I went there for a couple days and sledge hammered it a part. Some of the stones for the foundation came from there. The other stones came from the foundation of the barn of my coworker. I have not done much work with stone so it was challenge to figure out the best way to lay the stone.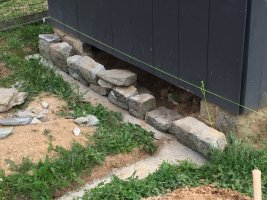 I did end up buying the long 2x6 for the sills. I didn't have anything else that was the same size, so I thought I would at least start with something that matched. The rim joist are an old picnic table I pulled apart and had stored for years. The joist are the rafters from the barn with the tree that fell on it. I was able to squeeze the a 2x6 size out of each.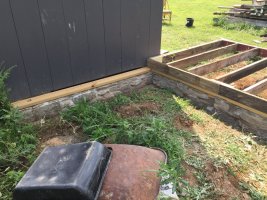 I will add some more photos tomorrow.
Thanks
Rob