Joined

Oct 26, 2018
Messages

874
Reaction score

1,329
Points

233
Location
im trying to build folder/tracking system so I can keep ALL things farm and homesteading in one spot. I need something that I can build folders and sub folders for different aspects, species, expenses, income, maintenance schedules, milk/egg/meat production, on and on.
I'm hoping for something that has: charts/graphs, scanning/image/photo abilities, lists, notes, internet files or sites, calendar, document creation, schedules, things like this.
Is there an app or program that can do all of that? I want to break it down into categories and not a lump sum/general topic. Does anyone have any ideas or recommendations? It possible I'm expecting too much from an app or program. Right now I'm using several different apps on my iPad. The only thing is I can't duplicate the application so I can use it in different areas of my life. Ultimately I'd like a family category, cabin category, farm category. This is how I'm trying to organize things. I know I need to purge as well. But this is how I currently have categories that my like apps are all together.
Then this is how I'd like to have our farm/homestead tracking, notes, documents, and schedules.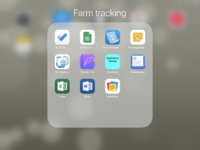 This is where the problem comes in. I either can't or don't know how to organize my notebook files.
My Pro Planner app is incapable of having multiple planners. Pigs, goats, incidents are all mixed together. It would be hunt and seek to find when a specific event happened.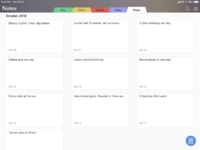 Word is also a complete messy disaster.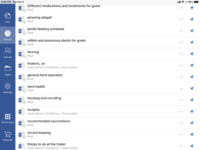 Is there any way I can organize my home/family, farming, gardening, cabin topics into their own categories without tying up an app for that specific topic and not being able to use it for another topic. I'm also not opposed to selecting my favorite and most useful apps and leaving them on my desktop. But most of these don't have a way to categorize areas of my life. Help please. I'm an organization freak and these is freaking me out.