Joined

Nov 30, 2020
Messages

62
Reaction score

116
Points

103
Preface: This is a long story that is not over yet. I will split up what has happened so far and update as we go. We love our LGDs and are always learning from them and about them.
*****
Our first LGD we acquired as a pup, a male named Shep who was 3 months old. We were looking for a maremma, but settled on Shep because he was said to be half maremma and half Great Pyrenees and was raised with chickens. When we went to pick him up he was actually sleeping in the chicken house and didn't want to leave.
Being new to LGDs and raising mostly poultry, this seemed ideal to us. We brought him in at night as our coyotes are quite large and we had no mature LGDs to keep him safe or show him the ropes. We spend every moment with him attached to us at the hip. We fed chickens with him. We did parameter walks around the edge of the property with him.
We knew he would need backup as soon as possible and we were really set on getting a maremma to pair with him so when a working registered litter became available just a few hours away from us, we got him a buddy. Her name was Lana. We had her just a few days when we realized that something was not quite right with her. She was just a few months old, but bit us all and wouldn't release. She bit the crown of my head while I was bent over a task. She bit several of my fingers until blood dripped down them. She charged and bit my chest. She was happy go lucky and very attached to me and to Shep, but would drop her head and spread her legs in the front and growl in a split second before lunging to bite someone. Shep still adored her and would watch over her while she slept, but he was fearful of approaching her and she was half his size. When she bit Shep on the face and left puncture wounds (that would take a few months to completely heal up) the breeder offered to take her back and we accepted. She is still there under her parents' supervision and is said to be doing well.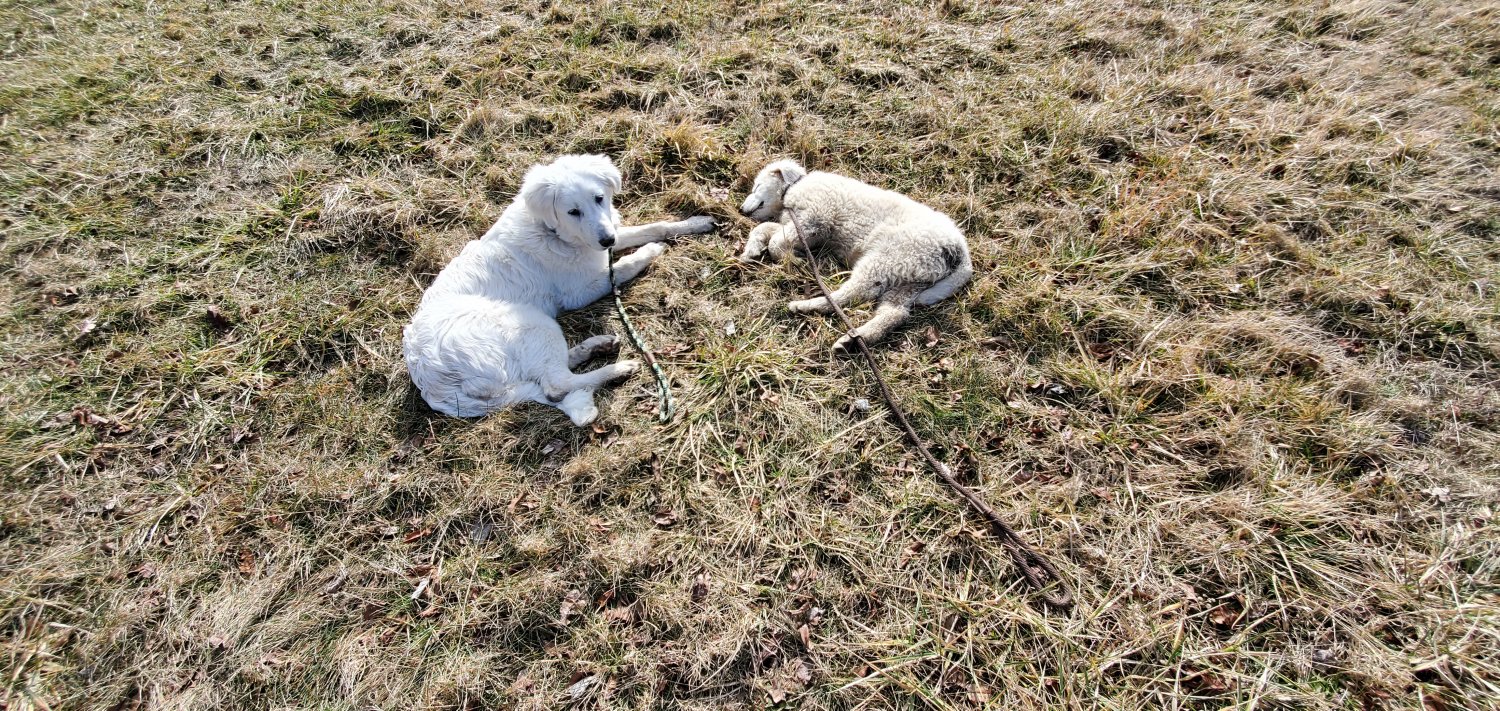 Shep was now 6 months old and very sad to be buddy-less. In this lull of loneliness and boredom, he realized that if he ran into the chicken flock they would flap and scatter. We made the decision to move him to the fenced in pasture that surrounds the chicken yard so that they were safe from his youthful games and he could continue to observe them. We continued to take him in on a tether when we tended to the birds. One duck thought it would be a good idea to visit his side of the fence and did not survive the experience. We made it clear how disappointed we were with his handling of the duck. Shep wouldn't look at me for a full day. (He did this again later with a chicken and hasn't again since.)