Joined

Dec 15, 2011
Messages

462
Reaction score

1,586
Points

303
Location
The past several years I've been in a wheelchair and Heath has been my only companion. For years I didn't see anyone from the ranch except my husband who is gone 7 days a week from dawn to dark
Heath was a very gentle, nurturing soul even as a puppy. He brought me a baby meatie with a leg deformity everys morning as if he expected me to fix it. After hearing a strange sound l, I found him in his crate with a kit that fell out of the rabbit colony somehow, and another time with a baby bird. He watched over our bummer lambs
He loved herding his ducks and at 6 mo old he gently herded all 30 meaties into their shed at night as we free range ours to prevent common leg problems. (My Maremmas also protected them so no raptors would get them. Heath only managed them at feeding time and checked on his forays outside) Heath was trained at 12 weeks to open the back door himself as we have no dogdoors)
He spent most of his time with me. He was an amazing communicator and it was always very clear what he wanted. He seemingly read my mind and know when my pain was too overwhelming, and responded accordingly. He picked up everything I dropped, which happens frequently) he took all the laundry out of the dryer and put them in the basket. He also picked up the dirty clothes off of the floor. He was in charge of my medications as I can never remember if I have taken them or not.
He enjoyed herding sheep although he never learned to do it with any proficiency. The problem was that I know nothing about herding, and two trainers I took him to were unsuccessful because they wanted him inside the pen and me outside and Heath wasn't having it. The third trainer let me stand inside as out of the way as possible while he taught Heath.
While I could not herd sheep with him I also didnt need to, as our sheep followed our LGDs wherever they went and the dogs always brought them in at night. But when I ventured down our dirt road in the wheelchair and 3 of the girls' goats followed us, I was able to direct him to go around them and push them where I wanted them to go.
He loved going riding with me, while I was able.
He was a truly amazing dog. We had a connection like nothing I ever experienced before. He was a clown. He made us laugh every day for 7 years. He never did naughty things. He didn't chew things up like puppies do. I never had to raise my voice or ask him anything twice. From the day we picked him up at 8 weeks, he was our family.
He never cried. He housebroke faster than any dog I've raised. He was a snackie addict. He would decide which treat he wanted and would turn away disgusted if it wasn't what he had in mind.
And then there was his "crackie". This was Red Barn dogfood roll which I cut in small pieces and kept in a container.
"Ah'm hongry!"
"this one puhleez"
Heath was really special to me. Of all that I have lost, his unexpected death hurt the worst. I almost didn't recover. If not for the help of my friends online, and his breeder who became my friend, I'm not sure I would have. I am still climbing out of that dark place and fighting to get my life back. Fen is helping, with a firm grip on my heart, dragging me out of the pit.
So, today, I will hope to recover from my efforts to get the chicken pen stripped after years of never being cleaned and get ready for the rabbits that are coming in a couple weeks.
I will feed my starter and make Randy sone of the sourdough cinnamon rolls he likes so much.
This morning Fen discovered that I hid the slippers he steals each morning to trade for treats (he has the heart of an extortionist😝)
So instead he forcibly removed my socks for me and sweetly handed them to me, waited patiently while I was in the bathroom so he could close the door, then insisted in putting Randy's shirt snd pants from yesterday in the dirty laundry even though I tried to stop him as TheMan had not yet gotten dressed and transferred the stuff from his pockets. Then he managed to find a pair of glasses I lost last week and brought them to me. He went out for his morning constitutional, then came in, jumped in my lap, gave me a kiss and booped his Topl feeder indicating I had forgotten his breakfast. When I opened the refrigerator, I accidentally knocked the top off if the dogfood can and a half full container of yogurt fell out. He handed me both. Considering he's just over 6 months old, I think he is going to make a great Service Dog, following in Heath's pawprints.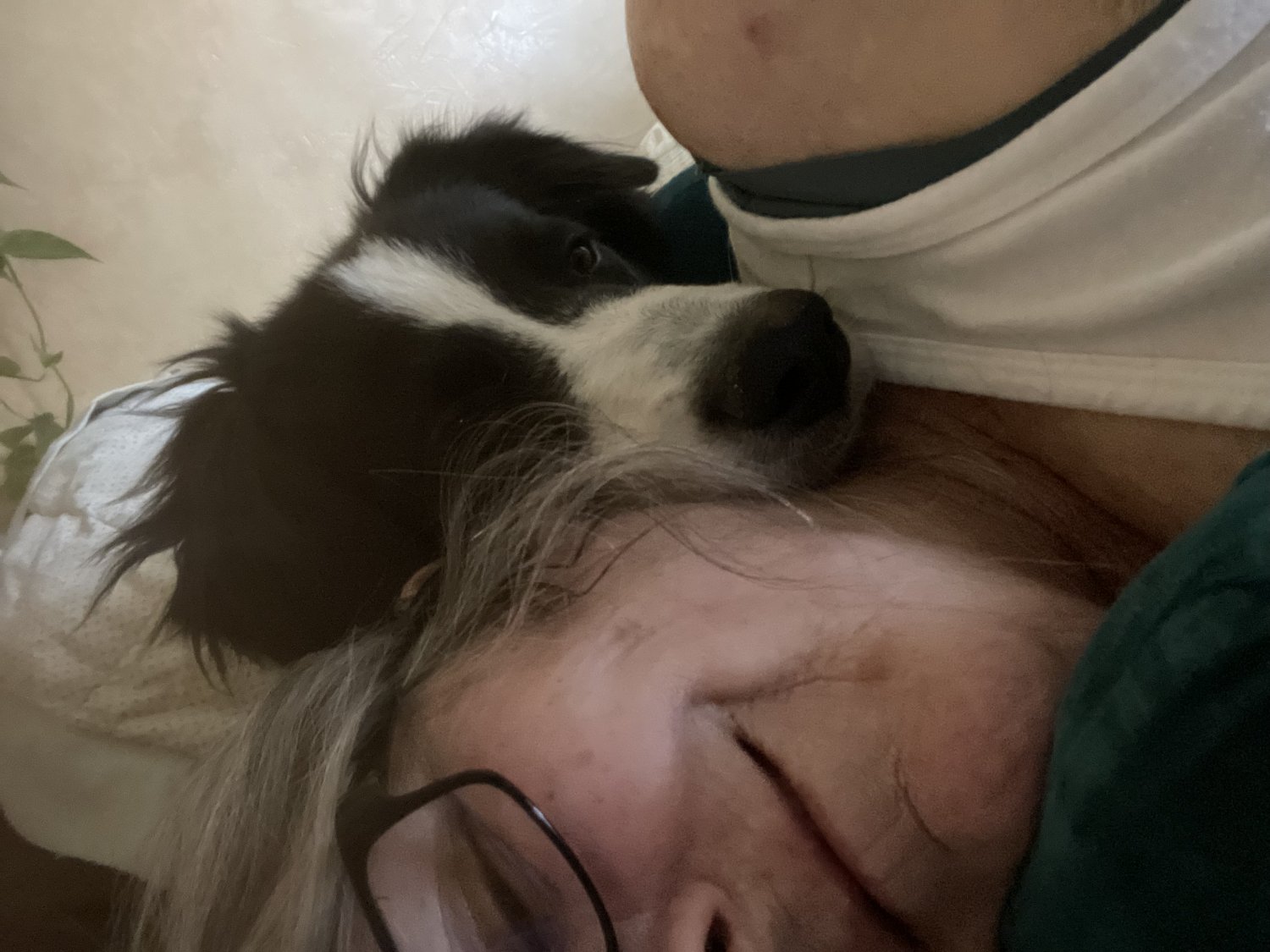 The sourdough starter awaits…
Last edited: