Joined

Oct 5, 2012
Messages

4,607
Reaction score

9,051
Points

553
Location
So last week we got a great deal on 5 more stacks of cages, I moved all my tack back to the house and now we have 50ish holes. I have some I can divide or not depending on if I want a larger cage or smaller. I have room for 3 more stacks if we remove the chicken nest boxes. Haven't decided if we will or not.
Also last week Jocelyn and I did get Richie and Rayne over to the indoor arena for a lovely ride. Such awesome ponies they are.
And our last VL doe to kindle this year (she's only 8 months old) she had 6! Has been prepping for over 2 weeks, such a sweet doe, her name is Whitey. They are the "count down" litter being born 4-3-21
I guess I should revive my bunny thread. Just is easier to have one at this time.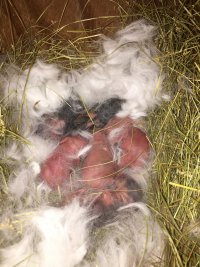 And the Easter eggs we made today.