Joined

Oct 4, 2014
Messages

15
Reaction score

23
Points

41
A few weeks ago, our family decided it was the right time to start raising rabbits for meat. I have been raising rabbits for fun and compost for 11 years now, so am well versed in all things rabbits. In fact, we still have our original rabbit... he's a neutered male, has lived outside his entire life, through NH winters, and is a ripe 11 years old.
We also have an unproven (but BEAUTIFUL) 1.5 year old Giant Chinchilla/Lop doe... not an ideal way to start a breeding project.
SO the other day I purchased an 11 week old Rex Buck from a local breeder, and am on the lookout for a young New Zealand Red Doe (If you are in NH and breed these send me a private message!) Will this be the perfect cross? No. But the main reason I have rabbits, is because I like rabbits! So I want them to look good too
This expansion called for a new updated hutch. Here is the process I went through to create my dream hutch
(The steps are written in a way that you can copy my steps if you want to build this hutch too

)
Step 1: Create a 3d model of hutch, then crumple it up and make 3 more until you are satisfied.
Step 2: Realize your hutch design is going to be difficult to assemble, but purchase all the materials anyways.
Step 3: Begin assembly in 20' F weather.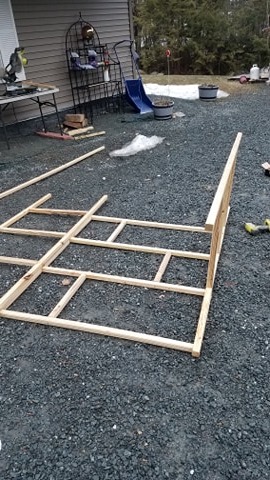 Step 4: Make several mistakes in measurements, change the design a little, and breathe a sigh of relief when it finally stands on its own.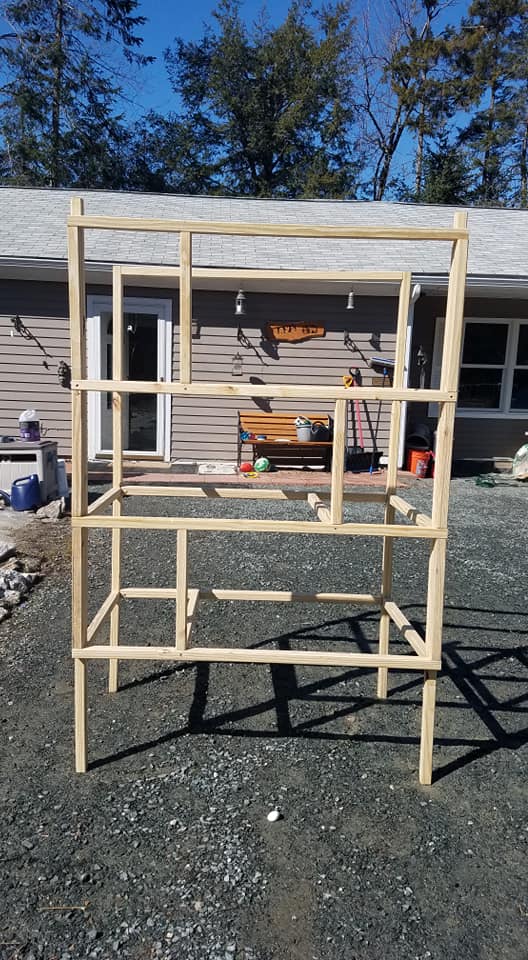 Step 5: Find someone who can use a circular saw to cut out the 3/4" pressure treated Plywood floors for you.
Step 6: Assemble the floor, and realize that 3/4" pressure treated Plywood floors is probably overkill. Also realize that this hutch is massively heavy. Continue with project anyways.
Step 7: Assemble sides. "How many people will it take to move this?" you wonder. Now repress this thought.
Step 8: Begin building doors... stab yourself multiple times with the impact driver before you realize you have a vice, and that would be super convenient for a project like this!
Step 9: Test your patience by trying to hang doors on a surface that is not quite level
Then realize that you probably should have stained the hutch before installing the hardware...
Step 10: Stain the hutch with 1 qt of your favorite stain. Promptly run out of stain because this hutch is massive!
Step 11: Install wire to the hutch, and give yourself a lovely blister with the wire cutters (because heavy gauge wire is a pain to cut
)
THEN YOU'RE DONE!!
The roof will be installed when we figure out how to move it to its final location HAHA. The final measurements are 48 (L) x 30 (W) x75" (H). The top two levels are solid floors mostly because I didn't trust myself to create a structure that would allow for a removable tray. Each level has a 15" x 30" privacy area and 33" x 30" patio.
Let me know what you think
I'm pretty proud of the completed product!