Joined

Jun 7, 2016
Messages

2,944
Reaction score

11,461
Points

503
Location
Alright, I've owned every breed on my bucket list now. Also, Dan is in love. Today we brought home the last pair of does from a lamancha breeder that is selling off her saanen herd (and most of her lamanchas, but we don't need more temptation, right?) and replacing them with stinking dwarves because they sell for more and eat less hay (boo). So now we own two February saanen doe kids, who are in the barn acclimating. After unloading from their trailer they right laid down in our air conditioned car on towels and a tarp and made no noise outside of Dan's heart goat mumbling to him once and were happy. And it was like 2 hours and for part of the time I forgot I had goats in the car. The family excluding me went in for arby's at the truck stop, then we slogged home through nashville weekend traffic, then I had to prepare a stall for them in the barn-it took a while.
This year for them is for growing so they can support an extended lactation. Next year we may make some mini saanens. These two are strictly here for mini saanens and milk and to be enjoyed. Not more Dan saanens, right?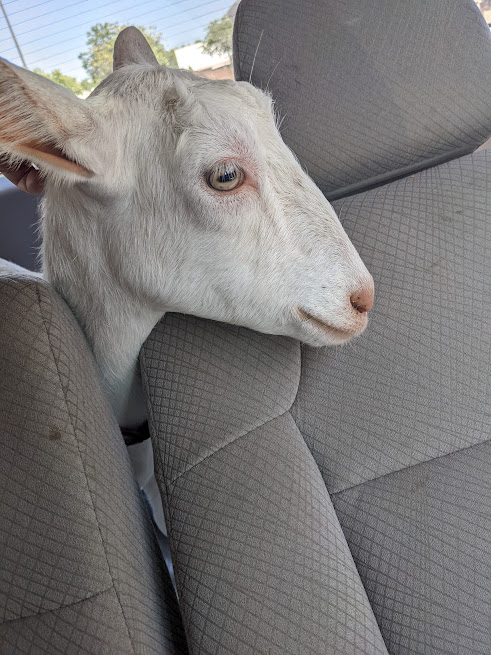 One girl has her dry leg and wound up getting a second one because her breeder was asked to bring her for show numbers but it doesn't count (unfortunately for her). Next year I have a goal to go to two shows with a goat or two. Not sure it will be these two. I'd also like to milk test.
Also, I've come to terms with keeping a few of my dwarves that I just could not sell. So I decided to up the quality of the Nigerian buck pen and add two more bucks on par with Oberon's quality. So two more nigerian bucklings who might just be the right color to make mini saanens when they are bigger. Consider my remaining dwarves my project animals. The two new boys are Mini Land Ranch BK Aster (Amethyst Acres Beau-Khaleel x Amethyst Acres Z Giulianna), and Mini Land Ranch A Phlox (Golden Dawn Z Armageddon x Sugar Moon VIC Beau-Kaye) and we are going to use them and Dawnland BF Oberon over and over again until we can't anymore to see if we can produce nigerian dwarf goats with almost standard goat production, good conformation, and actually good teats.
...And also most of all mini saanens, because we love those, (and because they are better than ND and the world needs more of them). For flexibility's sake, white or cream/light gold might be the best color for our dwarf herd.
Last edited: