Joined

Mar 13, 2015
Messages

1,783
Reaction score

4,625
Points

343
Location
This is the new pen layout in the barn with a narrow central aisle between the jug gates which face each other. Much more efficient although the alleyway is tight. The jugs are large 5'w x 10'l. I need to order more panels and had a bright idea. I will order 6 7' panels and 1 5' panel with a gate. By making the jugs 5' x 7', I can move then closer, widen the alley way by a foot, and add a 5th jug at the end with the gate facing into the centerof the barn. The 5th jug would be 5' x 10'. I am currently using 12 5' panels for the sides of the jugs. By rearranging the 2 10' panels onto the outside ends of the jug arrangement, I can put 5 jugs in the space I currently have 4. This came to me while I was cleaning the barn.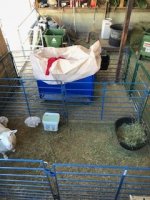 This is a photo from the driveway looking down into the barn about 5' below the driveway level. 7088 and her twins born this am are in the bottom of the picture which is the jug nearest to the driveway side. I still have to weigh these little guys and I am watching mama since I did not find any afterbirth. I think I will give her a little selenium and E paste just in case. Anyway, above her is the scale which I keep covered. I just moved it over and divided the jug. I decided to keep 8040 in the barn with her large cue ball size lump and giant belly. Oddly the sausage shaped swelling n her jawbone has diminished. Beyond the scale is the entry into the barn and the junk pile. It is somewhat hidden by the green waste barrel. I have now cleaned it all out except for DS1's heavy footlocker which he told me now to move. He will move it for me. The last thing there is a pallet on which the foot locker is sitting. I'll remove the side panels from the jug, and have my sons move the scale into that spot. I should have done this a long time ago.
Back to the barn - my break is over! My boss is a
slave driver!