Joined

Mar 13, 2015
Messages

2,191
Reaction score

5,761
Points

393
Location
I see I have not posted since July 9!
Well, DD2 and Doofus have now moved into their new apartment in Montrose. It is only 15-20 minutes from us, so she is thrilled that they are close enough to come to family gatherings. Doofus might be going back his real name soon. He is currently learning to be a cable installer (TV) and is making a decent wage. The seem to be happy and DH was very impressed that Doofus actually rented a U-Haul by himself, filled it with all their furniture from their storage unit in Bib Bear, brought it down and was unloading when DS1 showed up to help him. DD1, DH, and I went to help too.
First, I had taken DD2 to several thrift shops looking for a sofa. No sofas. She decided she would bite the bullet and spend her $450 furniture allowance on a new IKEA sofa. The sofa was $400. We sent to IKEA – a 1 ½ hour wait in line before we could get in the store!!! But the nice lady told us that we could come at 9am when there was early entry for seniors. DD2 and I visited several other stores doing errands for her move and I bought the paint and painting supplies for DGD1's room.
The next day I got up and went to IKEA for the senior hours EARLY. I met DD2 there and we tried to get the sofa she wanted. They were out. We had them check when it would be in. No idea since the warehouse was out and there were no Ektorp sofas anywhere in the system. They were completely sold out and had no idea when they would have them again. The Ektorp is the one with the removable washable slipcovers. They had the slipcovers, but no frame anywhere in the state. DD2 bought a few things and I got 3 100% thin cotton dishtowels. These are excellent for drying good crystal and sterling silver.
When I got home, I told DH about our tiring and unproductive day. DH suggested we try the Salvation Army store I Van Nuys which handles a lot of big furniture. He was leaving for the bank and said he would run by and check. An hour later DH called and said there were a lot of sofas did I want to call DD2 and come over? I told hm to take pix of the sofas he thought matched what she wanted which was a light cream or gray 7-8' sofa. DH, no slouch when it comes to his children, took pox of every sofa in the store. When he returned home I texted them to DD2. She called and said that she liked several and did we want to go over. I thought she was in Big Bear packing for the move on Wednesday, but she was at the apartment cleaning it. For some reason she felt she needed to completely clean the apartment which had just been refurbished and professionally cleaned. Overly excited about their first apartment! She was even going to mop the floors, but I told her not to do that until AFTER the move. She came and picked me up. DH took the truck and we went to the Salvation Army store. She chose a nice comfortable cream sofa in lovely condition with chenille type upholstery. It was $119.00 and DH produced a coupon for 25% off that he had gotten from the store previously. Total cost of the sofa with tax $95.00! She also got a pretty white shelf unit for DGD2's room also 25% off since she got another coupon for buying sofa! This Salvation Army has reconditioned and sanitized mattress and box springs sets for sale. I checked the prices since DD2 and DSTBSIL wanted a king size. The Salvation Army store quoted a price of
$281.00 for the set!!!
DD2 was thrilled!
We drove to their apartment meeting DD1 on the way with a bunch of DGD1's outgrown toys and clothes for DGD2. We loaded them into the car since DD1 had to park 2 blocks away – parking is terrible at their new place. DS1 and Doofus-soon-to-be-FSIL2 were unloading. DH jumped in to help while DD1, DD2, and I staggered up to the apartment with all the stuff we had. The apartment is on the 3rd floor but
luckily
there is an elevator.
Unluckily,
the elevator is tiny and when I say tiny I mean
TINY!!!
The sofa would not fit in the elevator. DS1 scolded us for buying a couch over7' long when he told us
distinctly
to get one only 6' long. Too late and too bad. Besides it wasn't only the length of the sofa that would not enter the elevator. The sofa WAS TOO WiDE TO GO THROUGH THE DOOR. DH had assured DD2 that if it wouldn't fit in the elevator he could get it into her apartment. DH can do anything and we trust him implicitly. First, DS1 and DSTBSIL tried 3 different ways. DS1 proceeded to scold us severely for disobeying his instructions as to size, etc. Finally, DH said he could get it up from the outside with a hand line. He sent DD2 up to put a towel over the balcony so he knew which was her apartment. With a crowd of interested tenants gathering in the parking lot under DD2's kitchen balcony DH ran a rope from the apartment 3 stories down to the truck bed where he was parked under her balcony. Although there was no pulley on the roof that would ordinarily have been used to lift furniture into 3rd floor apartments from the outside, DH assured us he could make it work. He quickly tied the sofa securely to the rope and DS1 and DSTBSIL pulled the sofa up to the balcony. There was only one bad moment when they were trying to maneuver it over the railing. DS1 called frantically for help from DD1 or myself. At the moment DD1 was wheeling the large shelf unit through the doorway to DG2's bedroom on a dolly and I was trapped in the room. Finally, she managed to clear the doorway and I ran through to the kitchen where I helped to hold the sofa while they lifted it over the railing. The crowd below cheered.
DSTBSIL left to return the U-Haul before being charged for another day. After bringing up the final items, DD1, DS1, DH and I all left DD2 and DSTBSIL to sort out and clear up their mess. Everything had been placed in the LR, except those items that had been brought during the previous days.
DD2 and DSTBSIL were thrilled with their new sofa
and
with the price. The next day they went back to Salvation Army to order the king mattress and box spring set. They also wanted to look at some chairs I thought would look nice with the sofa. DSTBSIL is tall and when he sat in then decided that they were not comfortable for him. They picked up a few items of glassware and had fun looking around. On the way home they rented a steamer and cleaned the new sofa and the 2 blue chairs that I had given her. They had been in storage for a while. They really need to be cleaned but the frames are carved and they are pretty chairs that DD2 loves. She can cover any stains with pillows or throws.
Saturday, I emptied the little bookcase that Daddy had made years ago for me. I was giving it to DD2 for DGD2's books. DD2 couldn't find some of her boxes and was not sure if they had been left in the storage unit at our house or were still in Big Bear. I was pretty sure nothing of hers was there but went out to look and found some other things to give her. DH vacuumed the rug we were giving her and we took the bookcase and painted footlocker of wooden blocks for DGD2 over. DD2 had the place looking very nice, everything arranged and even her large painting hung over the sofa. She and DSTBSIL had also found a little play kitchen for DGD2 on Craigslist with all the accessories and arranged DGD2's room. It was really cute.
Today we are going back to the Salvation Army store with DD1 to look at a dresser for DGD1. Hopefully it will still be there since it was a very nice size and had flowers painted on the front of the drawers. If she gets it, she will give the small dresser that DGD1 is currently using to DD2 for DGD2. In our family, we pass furniture on from one generation to the next. We haven't bought anything new in years. The old stuff made from real wood was quality, unlike the new pressboard stuff. DGS1 and 2 have the maple bunk beds and dresser that my sister and I shared when we were children. Those were then passed on to my brothers who were quite a bit younger. Then my youngest brother took them for his daughter. DH and I picked them up on a trip to Seattle and brought them home. Several years later I refinished them for DD1's 2 boys. In a few years, she will pass them to DS2 for his children. The set is solid maple, not pressboard, and is worth keeping and reusing for years to come. DD1 recently had the matching secretary desk refinished to match the set. I wanted to do it when I did the beds and dresser but she didn't want it then. The boys' room was too small. She had to pay someone to have it done last year because I just wasn't up to refinishing it when she wanted it in the next house.
I am sanding down my 100 year old cedar lined chest that my grandmother won in a church raffle when they first moved to the San Fernando Valley in 1920. It was filled with hand embroidered dresser scarves and linens made by the ladies of the parish. I even have some of those fancy linens put away.
I considered refinishing it in a natural stain, but have decided to paint it. The wood is ok but nothing special so I will prime it and paint it white as originally planned for DGD1's room. The legs are ornately carved but the molding trim on the front was damaged, so I removed it. I have some small carvings I will paint to match the one I did for the canopy bed. The trunk is huge. It will make a great toy box, or storage for blankets or off-season clothes.
Here is the headboard of the bed. The carving is a little large but DGD1 likes it.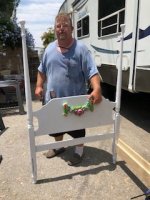 I am in the process of having my kids go through my paintings and other items that I have stored in the Connexes to decide if they want anything. This is in preparation for eventually moving. I am also giving them some of my good crystal now too. Some of my very good antiques which are not to their taste will go to the consignment store in Palm Springs for sale.
My garden is not doing very well.
I planted too late for a lot of the vegetables to establish I also think that the raised planters we made from the water troughs get too hot in the summer. We will plant a winter garden in them. I will have DS1 and 2 make 2 more raised bed planters with wire bottoms on the ground. That planter is doing great with the tomatoes and crookneck. It needs to be raised another 12" to 24" high though to keep the rabbits and ground squirrels out of it.
Last weekend DS2 managed to shoot a rabbit in the barn. It was still squirming, but Bubba pounced on it to eat it. One down, 5,000 to go. Last night DH took the pellet gun out and sat in wait for rabbits. He shot at 2 ground squirrels and missed. I told him he needs to borrow the scope that DSL1 has and then needs to sight it in. They are becoming as great a problem as the rabbits.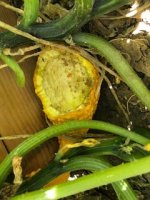 RABBIT PREDATION! SQUASH IS COMPLETELY GUTTED!!! PESKY WABBITS!!!
DS2 and FDIL are down in Ramona, outside San Diego. He was transferred 2 weeks ago. They both went since she does not have to report into a classroom until August. They came home the first weekend but the second weekend they stayed down there. DS2 was able to rent a little guesthouse. They are enjoying their privacy. So are we – and I only have to cook for 3 people!!! If I don't want to cook, too bad! Chicken pot pies! I am on vacation.
My roses are officially dead. I need to write to Jackson and Perkins and ask for replacements. I don't want them until the fall though. I was also supposed to get a discount but never got it. Time to do battle with the forces of darkness aka big business. They are supposed to be a reputable company and this is the first time I have ordered from them so hopefully things will go well.
Yesterday we weighed the lambs. They are not growing as well during the summer as they do I the winter. I have orders for 2 more lamb but am taking these 2 to the auction. One is exceptionally long and I am tempted to keep him for our freezer but I want to get as much $$$ for hay as possible. Prices are down and it is time to stock up for the winter. We have a lot more mouths to feed this year since I kept all my ewe lambs which doubled the size of our flock. All the other ewes except 2 lambs are bred now and have lambing dates ranging from August through December. The 4 ewes in the barn will go out with the ram in August for January-February lambs. We want to clean out the creep pens asap. I will have to build a creep in the field fold pen this year. There will be too many ewes with nursing lambs to keep all of them in the creep pen once the lambs are about a month or so old.
We have been taking Bubba in for collection every 2 weeks and last week got a good report on his semen. He goes in tomorrow for collection again and this time we will have it put into straws and frozen. We have to bring him to Pasadena every 2 weeks for another month to get a good amount of straws. Bubba is a little shy about production. LOL I am just grateful that we were able to find a good AI vet in Pasadena instead of having to drive 3 hours to San Diego like we originally thought we would have to.
I thought Erick wanted his straws because of his sire, Asker, but Erick said he has enough dogs out of Asker now. Asker is Rika's brother. Why Erick wants the semen from Bubba is for his mother's genetics. Bubba's mother is where Bubba's more protective and aggressive Anatolian temperament comes from. Erick is worried that today's Anatolians are becoming too docile and passive. They lack true Anatolian temperament. If we can get enough of Bubba's straws, he will put out the word that they are available so we can sell some. That would be nice, but I am not holding my breath since we can't show him anymore due to his blind eye. On the other hand, he is a magnificent looking dog with excellent conformation and large so putting him up for stud with the right bitch would be ok with us.
July 29, 2020
OMG! I am amazed that I have not posted anything here for a while. I must have been really busy. Anyway, I got the canopy bed finished and then went over to DD1's and we painted the DGD1's room a pretty shade of pink. Chose the lightest shade of pink. DD1 was afraid it would be too light, but I reassured her that it would dry darker. Then it went on very, very light, and dried splotchy as all paint does for the first 24 hours. 2 days later I went back, and we put the bed together and put on the canopy and dust ruffle. The dust ruffle seemed to have shrunk but probably needed to be ironed which DD1 wasn't about to do so put it on anyway. DGD1 was very upset that the canopy did not have long curtains! I remembered that her mother was the same when I put up the bed for her the first time! I suppose I will have to make some long curtains for the bed now. How I spoil them!!!
I painted the trunk and ordered some wood carvings which I have painted to match the one on the headboard. I have to attach them on the trunk and it will be ready to be delivered. Then I still couldn't find the round table that Daddy made for me years ago which I was going to give DGD1 for her bedside table. I was at my wit's end when DH and I were driving over to DD1's house and happened to see that a neighbor had put out 2 sets of old nightstands at the curb. He joked that they would do for DGD1 but I still had hopes of finding the table. Finally, after several days I took the car and drove down to see if the nightstands were still there. They were and in new condition inside although the finish was not good. Since I planned to sand and paint them white thought, I loaded them up and brought them home. They turned out very nice and with 3 drawers each will give DGD1 extra storage.
THERE ARE TWO OF THEM. FINISHED TRUNK.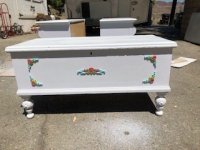 DD1 found a small highboy at Salvation Army for DGD1 and really scored on a set of brand new chairs for her kitchen. She had been making do for years with mismatched chairs that I had used to stage the apartment units when we had them. The chairs were starting to fall apart. She said that she really wanted some chairs that were either all wood or had leatherette seat covers so they could be washed, We found a set of 5 that had somewhat high backs and were completely upholstered in dark brown leatherette. They were extremely comfortable and were priced at $25 each - they were NEW! The dresser was $145. We had 25% off coupons and the manager knocked the price down to $200 for everything! Score! The manager thought there might be more chairs coming back in from the same source, so DD1 went back twice but no luck. However, since there are only 5 in her family, the chairs are great for her. They look great, and also match well with her formal dining room table and chairs. Did I mention that they are NEW!? Anyway, we delivered those to her house with instructions that she should clean and disinfect them.
I went over to DD1's house again on Monday with DH as backup. I was determined to hang her pictures. She has been in the house almost a year and the pix and paintings are still in the shipping cartons where I packed them!!! After they were up, both she and her husband were stunned at the difference they made in the house. I told her that it made me intensely uneasy visiting her in a house that looked as thought the movers had just walked out the door. LOL Still more pix to get up though, and also another room to work on. DD1 wants to move both her own and DSIL's offices into the small room between the master bedroom and studio at the back of the house. Once that is done, DGS1 can actually have his own bedroom. He is in middle school and will be 13 in October. He is sleeping in the current office which has a giant L shaped built in desk unit, but it has not been made his bedroom yet. I suggested that DD1 might prefer to put him in the small room off the studio, but she said she preferred to have the office there since it is between the master and the giant studio. You need to get go through the master bedroom to get to the studio and the little office room. Terrible floorplan, but not my house. Also DGS1 wants the giant desk to remain in his room. Luckily, not my problem – yet – until she demands my assistance in figuring out what to do. DSIL also wants the giant L shaped desk unit. Since he is the Daddy too bad DGS1!
We weighed the lambs again and the ram lambs are ready to go to the auction next week. I am considering sending 2 ewe lambs along too. They are twins and are both rather small. On the other hand, I like their mother. I have decided to sell one of my HIJO sired rams along with some of the ewe lambs as a flock. I probably should keep both the ewe lambs and put one of them in with the ewes I am going to sell. The 2 HIJO sired rams were bought when I thought I might show but I have changed direction and am now only interested in selling meat and breeding stock. I am going to buy another Lewis ram. I need to go through all my pedigrees and decide on which ewes I want to put together into a keeper flock and then possibly start to sell off a few based on rate of gain and body type. My HIJO sired rams and ewes are tremendously thick in the butt and wide across the loin but I have quite a bit of that bloodline now so can begin picking and choosing my keepers more easily.
The first ewes to lamb will be starting the end of August. I have to go back through all my calendars and make a list of upcoming due dates to post. As soon as the ram lambs go to auction we will move the ewes down in front with Axtell for breeding. The crayons on both rams need to be changed out. Then I have to get into the creep pen and clean it out. I will "hire" my grandsons to help. It is easy work in the creep since the hay is loose and light. The ewe pen off the creep is a different matter. That will take a lot more work. At least all 5 jugs are clean and sterilized, ready to go. I have been thinking about getting some hanging feeders for them which will help to keep the hay from being scattered and packed into the floor. I want metal ones from Shaul's. They are not expensive, but it takes me a 2 day trip to get up there and back. I will order them later so we can pick them up when we pick up my new ram after the October sale. Two day road trip with DH – fun! We tune into the oldies station and country western and sing along. Hideous voices but we love it!
Looks like DS2 and future DIL2 will be staying near San Diego for almost a year. DS2 says he expects to be posted there that long. FDIL will be doig most of her teaching on-line so will be staying with him for most of the time. She will only have to return for meetings.
DD1 will also be teaching from home since LAUSd has decded not to open the schools. This will probably last until after the elections since it is good press for our liberals. It does take a large problem off DD1 however, since she was going to have to go to school 5 days a week while her children would be going 2 days a week and would not be able to come here for daycare since they would be bringing all those Covid germs home to us. Now we have told her that we will have the children over here at least 2 days a week to do their schoolwork with DS1 while she is teaching from home. DSIL has been working from home too, so this will help both of them since there is no way they could both work with the children home all day. We can work with the children individually on their homework and they will finish quickly. It also means that we can use them for additional forced farm labor!!! HEEHEEHEEHEEHOOHOOHOOHAHAHAHAHAHAHA!!!
The stock trailer is still at the shop where DH is having the new side steps put on. I ordered them from WW over a year ago, but he has not gotten around to getting it in until now. He has also promised faithfully that when I say "Watch out for that large rock" he will make sure that he knows where it is instead of thinking it is the one way in front of the truck, before driving over it and damaging the side steps again. On both sides.
Had Bubba collected again and got 2 good straws. Will keep going every 2 weeks until we have 10-12. Then for the snip. He now jumps into the car on command. He even jumps into the car if the tail gate is open without a command. Is it possible he enjoys his trysts with the technician? I feel like a pimp. Ugh.
We went to Costco and bought toilet paper. 9:00 am senior entry. Limit 1 package. We each got one, then each got one of the more expensive TP as well which also had a limit of 1. Stored them in the 5th wheel trailer, along with some paper towels, and canned beans. Surprisingly, the only canned vegetables Costco had were peas and beans. Not green beans, but black, red kidney, and pinto beans. And refried beans. Generations of westerners lived on beans, so I bought some. I also got a few cans of chicken, Spam, and corned beef. When DS1 goes to Smart and Final I will have him get some other canned vegetables, tomatoes, and also chili etc. We are considering getting a pig and sharing it with DD1 and DSIL. They like eating pork while we prefer lamb. I have 3 orders for lambs, but am going to wait till winter to fill them since I have to feed purchased hay now. With wet winters the sheep grow faster on forage. Everything now is dry and they still eat it but not as readily. I can't wait to move to a ranch with pasture.
Garden is still not performing as it should. The Better Boy variety of tomatoes I planted 6 weeks after the original tomatoes actually have some that are tuning red bushes. The other 3 varieties have grown into huge bushes but even though I rattle the cages every evening to pollinate the blossoms, the tomatoes are still green! Not sure what we will do next year, but we plan to change the garden around and I think I may order a garden electrified netting from Premier. I will try to get a Gallagher charger. In my present state of mind, there is nothing I would like so well as to come out in the morning and find little electrified bunny and ground squirrel bodies hanging lifeless on the fence! I wonder if this quarantine is affecting my mind.
GREAT NEWS! My dear friend, whom I call MOM and who calls me her "daughter" had her pet scan and it showed that she is responding well to the type of medication she is receiving. We are overjoyed at the wonderful results. On the other hand, her significant other, our other wonderful close friend is not doing at well with his treatment. These are our dear friends that we play bridge with and with whom we cruise.
Taking the furniture over to DD1 this evening when it cools down. DGD1 will be ecstatic. She will have to wait another week or so for the castle wallpaper border to arrive and go up. Better post this now since it is so long.