Joined

Jun 27, 2017
Messages

3,211
Reaction score

9,483
Points

463
Location
We bought our house about 3 years ago. When we were looking for houses, we both wanted to move out of the town DH grew up in, which has turned from a town with lots of farm lands to now lots of housing developments and shops/stores and lots of traffic...We wanted a place out in the countryside with some acreage and a good school district. We found our place "by accident" because we didn't look in that area thinking it's out of the school district we'd like our son to be in. Then one day DH drove on that road to do a delivery and saw this little older house and thought we should look into....and here we are!
We have 9.5 acres of mostly rolling hills. It already has apple and pear trees, blueberry bushes, raspberry patches, chicken coop and several sheds. A few weeks after we moved in my step-daughter gave me some chicks and the adventure started....then last year we bought our first 2 Red Devon heifers. Who knows, maybe next we'll get some pigs

.
I guess I will answer some of the questions from the "Journal guide".
This is Part 1 (Questions 1-20):
1. What state/province/country are you in and what is your climate like?
New York (upstate). The climate here, well, they say if you don't like the weather today, wait a day and it might be completely different the next. This picture below pretty much sums it up!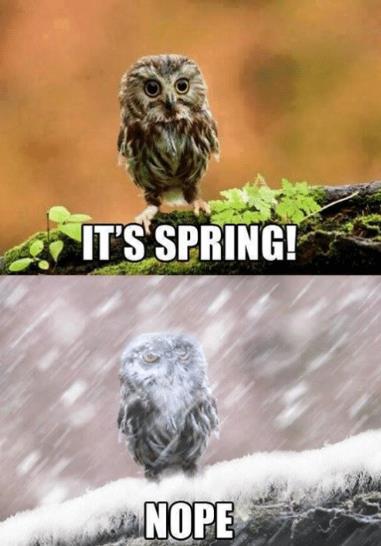 2. How many people are in your family? Marital status?
Married: DH, myself, my son, 1 adult step-daughter and 1 adult step-son
3. How would you define your farm?
Backyard farm perhaps. We currently have 2 hens and 2 cows
4. What would you do with your spare time if you had any resources you needed?
I would bake
5. Have you ever built a house, barn , or other types of building? Do you want to?
Does helping count? We (as is DH) built our first house about 10 years ago by himself and I helped. But due to unforeseen circumstances, we foreclosed on it.
6. Can you weld? Steel, aluminum, MiG, TiG, stick, Oxy-Acet?
I can't but DH can.
7. Who or what inspired you to be a farmer/rancher, hobby farmer?
DH. He didn't grow up on a farm but had worked and helped on his neighbor's farm
8 Is it a hobby or an occupation? Hobby
9. In what areas are you knowledgeable and in what areas would you like to learn more?
I guess I can say I'm pretty knowledgeable in baking, cooking and gardening. I love to learn and I still have a lot to learn about cattle
10. In what types of farming will you never choose to do?
Probably fish farming
11. Are you interested in providing more of your own food supply?
Yes. That's why I started gardening and learned canning and also bought our cows
12. Where do you end up when you sink into yourself, away from the outside world?
A good book
13. Can you drive a farm tractor or a semi?
What kind of farm tractor? I have plowed my driveway with a loader and I have driven commercial zero turn lawn mowers, does that count? DH can and he's a Class A driver
14. Do you make crafts or useful items? Would you want to teach others how to do these?
My craft making ability is only at wreath making. I would teach others if I know more
15. Can you legally have all forms of livestock where you are at? Do you have any? What kinds?
Yes we are deeded agriculture. We have 2 cows
16. Can you operate a lathe? Metal, wood?
No but DH can
17. Do you like to garden? If so, what do you enjoy growing?
I love to garden. I mostly grow vegetable, not so much flowers.
18. Do you fish? Bait or explosives?
I enjoy fishing! Bait only. I've never tried explosive and I don't think I'd try it
19. How much space/land do you have or rent? City farm? Country?
9.5 acres
20. Are you a Novice, Technician, degreed?
I have a Bachelor degree in Music from LSU but I now work in accounting
Part 2, the rest of the questions, to be continue...