Joined

Nov 18, 2019
Messages

2,037
Reaction score

7,609
Points

383
Location
I've been reading around on BYH for awhile and am so impressed by the gold mine of knowledge here and the members depth of experience. Also everyone is so friendly!
I don't expect to add anything to the knowledge base, but it might be pretty handy for me to have my ramblings in one spot., to refresh my own memory of events.
To introduce myself, my husband and I live on 10 timbered acres in north Idaho, 70 miles or so south of the Canadian border. Our kids are grown but not too far away, each of them about 30 minutes away, one north, one south. We have animals, but I will not pretend that I do anything close to farming.
I raise a vegetable garden, keep a few hens, a couple of dogs (Bernese Mtn. dog and a Australian Cattle dog) two horses and a miniature mule.
To pay the feed bills I have a garden maintenance business. I work in the town 20 miles south of us, taking care of landscapes during the growing season. One of the reasons I love winter is because that's when I am not taking care of landscapes.
We have four seasons, the longest is winter. Our growing season is fairly short so we have to grow short season crops, or use season extenders.
I always wanted to be a farmer, and do come from a farming heritage. My great grandparents homesteaded and raised sheep and potatoes in the eastern part of the state, near the Tetons.
Many relatives on both sides of the family farmed and family reunions were often on one of their farms. My cousins were marvelously fortunate in my estimation to be living the life I admired.
We love where we live and wouldn't trade it for anywhere else.
Here's some random photos that I just pulled up in no particular order.
Riding my old guy in the State Park near me.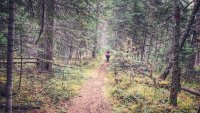 Our Kid#1 and my cattle dog on a hike we took on the day of the eclipse (whenever that was, I can't remember...) It took my knees weeks to recover from hiking back down. Ugh, I am so old!
My girls, left to right, Wren, Larka, and my mare Syringa.
My 21 year old gelding Luke, and my 4 year old mare Syringa. This was last winter, we don't have snow yet.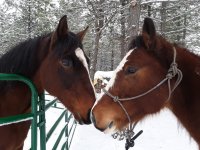 Huckleberry the little mule with a neighbor buddy.
My main squeeze with our new bikes. We've mountain biked for years, but this is the first winter season with fattys. We're excited to be able to snow ride this year.
A visitor in October.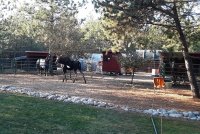 Last edited: