Joined

Jun 9, 2020
Messages

159
Reaction score

329
Points

143
Location
Got my pair Friday of American Chinchilla rabbits. They are really nice, full rabbits. Both are pedigreed and tattooed.
This is the buck. His parents weighed 9lb12oz and 9lb13oz. He was born 6/25/2020. He is in a 36"x30'x18' cage
And here is the doe. Her parents weighed 10lb12oz and 9lb4oz. She was born 4/4/2020. She is in a 48'x30'x18' cage.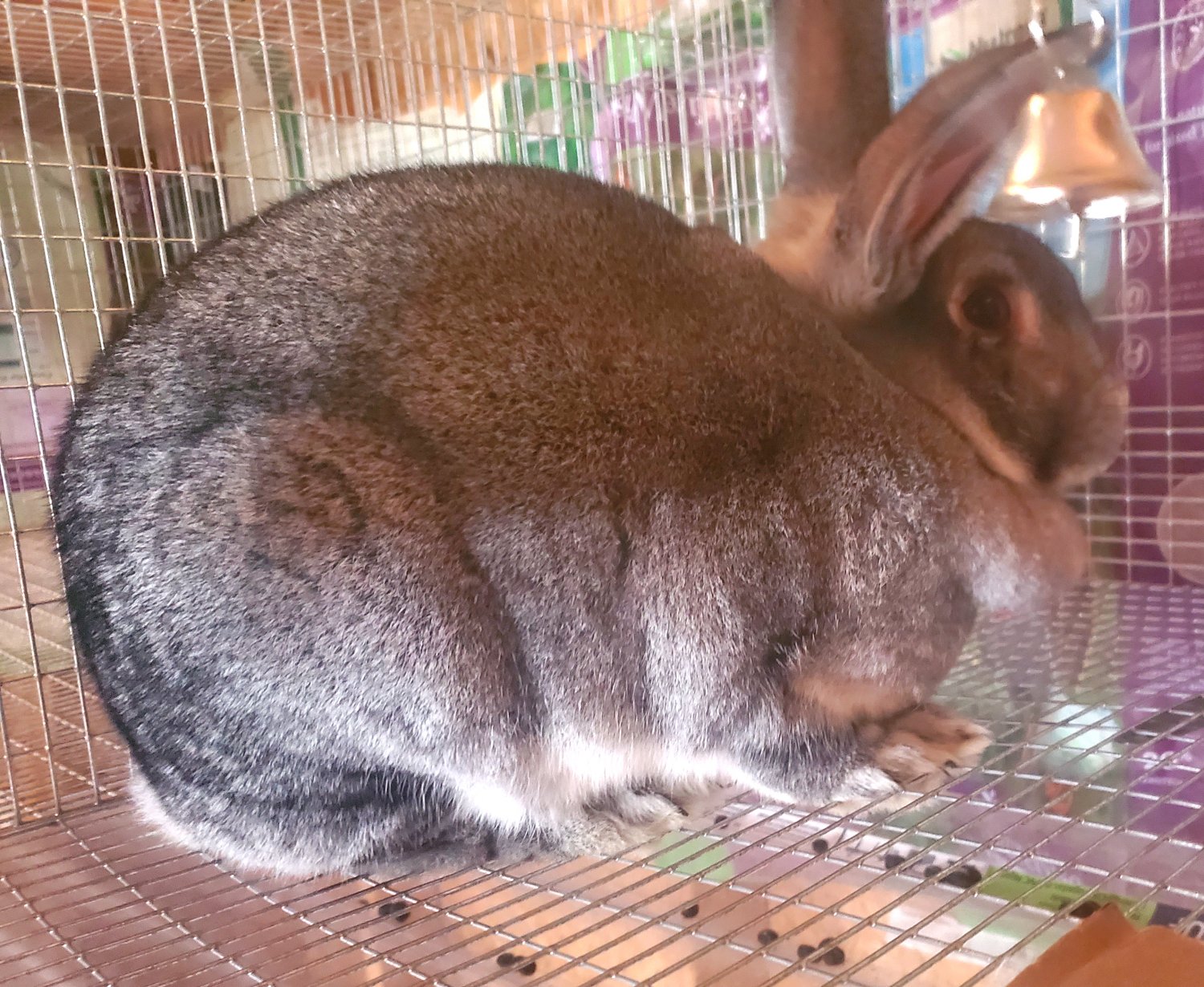 They are eating and drinking well and I am thrilled to have them! I plan to pick up a 6 month old NZ doe next week to round out the trio. My plan for these rabbits is to breed both does 4 or 5 times a year at the same time. I will put all of the NZ/AmChin mixes in the freezer. As far as the pure AmChins go, I will try to sell pedigreed kits (no younger than 8 weeks) for pet and show. I think I will ask $40-50 a rabbit. The pair have quite a few legs on their pedigree and there seems to be just enough interest in my area but not too many people breeding them that I may just make some sales. The ones that don't sell, I will put in the freezer. Depending on how the pure bred litters look, sooner or later I will replace the current doe and buck selecting from their offspring for fast growth.
Overall goals for the trio would be about 75lbs or more of meat a year and sell enough rabbits to pay for feed (and maybe make a bit of money from my farm!?!?!?!? A boy can dream). Hopefully the NZ/AmChin hybrids will be highly productive meat litters, and the little money I may make from the AmChins will hopefully offset food for the extra couple weeks it may take them to reach market weight. It will be interesting and fun to try and make my line of AmChins more "meaty" while preserving and spreading this endangered heritage breed.
I just ordered a record log book that comes with pedigree sheets so I can provide that for anyone that buys a pet rabbit from me. Also ordered a hanging scale so I can weigh these guys and keep accurate weight records. I think I will also get a tattoo pen, just for the rabbits I may pedigree/sell. I am feeling very optimistic about this venture and have been spending time with the buns each day trying to get them used to me for easier handling. A little apple slice goes a long way!!
If you've read this far, thanks!! I have a couple questions.
I have been feeding Poulin 18% protein rabbit feed, about 4-6 oz a day. Supplementing with a little handful of timothy hay a day, and a piece of fruit here and there.. Is this an adequate feeding routine?
I plan to attempt to breed them on Tues or Wed. Is a few days long enough for them to have settled in and be "in the mood" or should I give it another week or two?
Lastly, what is the best way to hold and restrain an unfamiliar rabbit for a thorough looking over? I would like to get a good look at their feet and genitals and bodies in general. Ideally I would like to do this on a routine just to stay on top of their health? How do you guys accomplish this?
I appreciate everyone who assisted me in choosing my rabbits. I'm sure I will have lots more questions as time goes on. Glad to be part of this community.
Thanks for reading!