Joined

Oct 16, 2010
Messages

6,071
Reaction score

6,371
Points

503
Location
I need to build a separate hay storage building.
I need to build a separate pony building.
I refuse to use the main barn for destructive horses and store hay in any longer!
So, I need to plan this all out!
Here's the building I think I'd like to put up. But only if its going out on the hay field.
I'm thinking of 20x30ft, but maybe it should be larger?
20×30ft would be 4x6 round bales, 24 rounds in one layer. 12ft wall height should mean I could have them stacked two high, 48 round bales.
Measuring for small squares, 3 bales fit roughly on a 4ft pallet. 5×10 pallets. 150 squares in one layer. They're roughly 1ft thick, so they could potentially stack 12 high. With more going around and between supports of the roof. 1800 squares.
Roughly 600 bales are needed for winter, so a packed barn should provide hay for year round use, which is needed for track ponies.
The leanto would act like a run-in for the ponies. It could also be split up many different ways to make one stall for an injured pony or several stalls for them all to use.
The supports are 5ft apart, I'd like to add a wall to every other 5ft span. Two 5ft spans would make a 10x10ft stall, perfect for a pony or two minis.
And since I would make the posts the gates hang on stand alone from the barn, I could make pens in 5ft increments!
The open 5ft span would have a gate that opens out to the track/field.
The back wall on the leanto would be enclosed. The front wall would be open and have a removable gate.
Hopefully, you can see these details in the pictures I drew in.
It would be on gravel. Probably need a foundation just for the walls to make it level, not sure what I could have done for that. Railroad wood, concrete? Idk yet. Whatever it will be, it will have to be flush with the inside of the leanto, so that it stays out of the way!!
Back wall closed in. Alternating 5ft spans are enclosed. Front has gate.
Ignore the colored in doorway, that would not be included.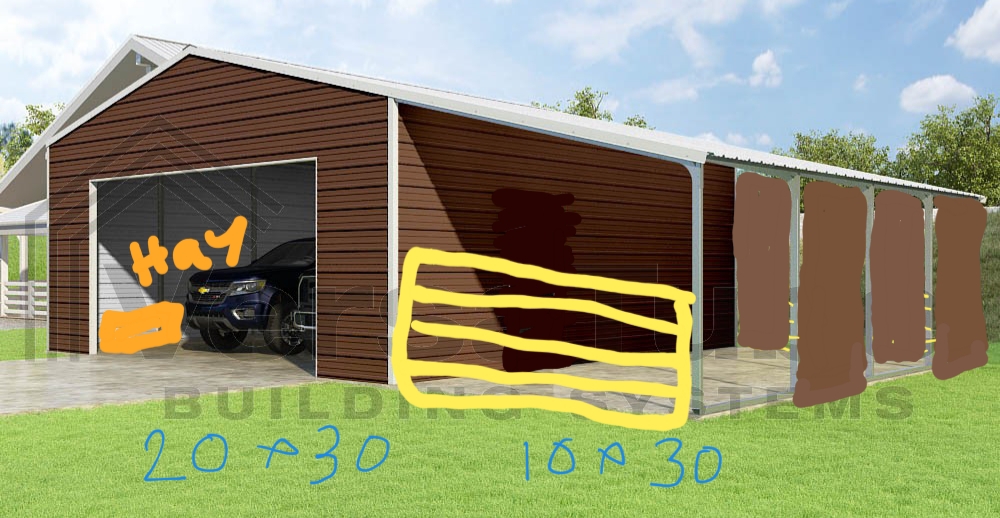 This one shows a green gate in the open 5ft span and a yellow gate near the back enclosing a 10×5ft pen. I couldn't draw it to be obvious at the 10×10ft size.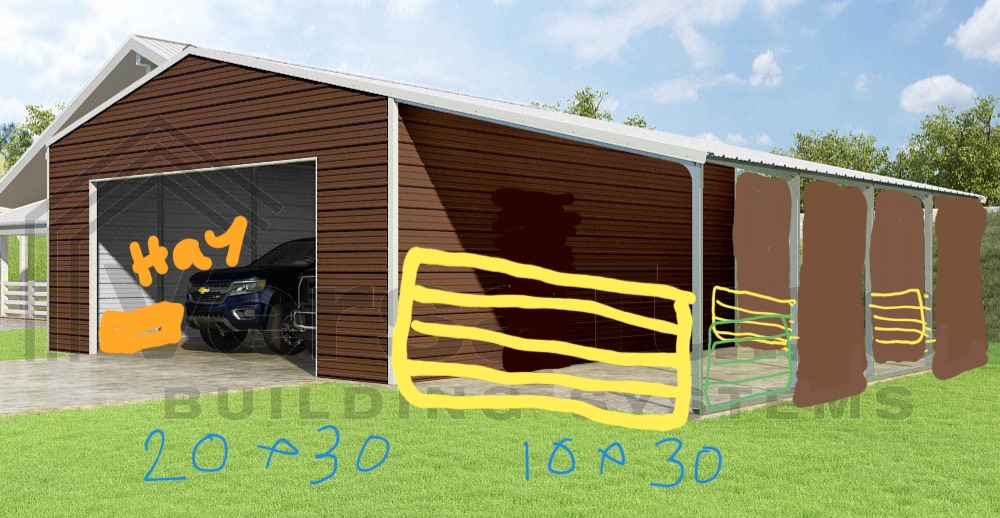 Here's one with the hot fence & gravel base. Clearly, I'm a visual person, lol.
Gravel would extend out to fence and in front some to deal with mud.
The alternative option is to build two new buildings. One strictly for hay on the old land, close to current barn, in the first sheep paddock. And then an open carport on the track for the ponies.
It would be enclosed on 3 sides, on gravel. Only the front side would be open. 10ft gates could be used to make stalls, but I'd jump them to get to other pens or have to take down pens to get rear horses out. Other than a bizarre situation, I don't think I'd ever use them all. I have never stalled a horse in 9yrs, almost had to twice, but being in the large paddock worked out.
Hay barn would be enclosed on 3 sides, very heavy tarp or moveable plywood as doors when raining or snowing.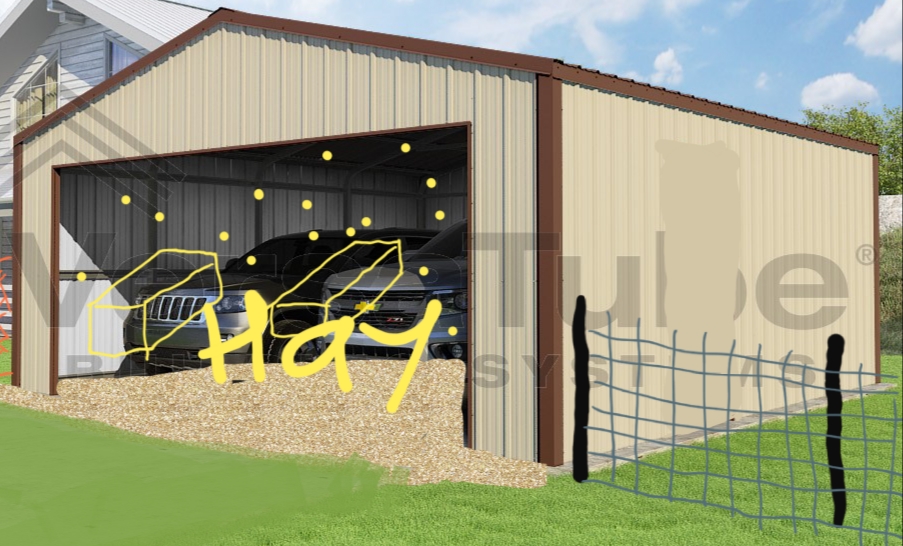 Hmm, so much to think of...