Okay, so I recently joined the forum today! Yay!
Because I wanted to ask your advice on something. According to my guesstimate, my ewe Esther is a minimum three weeks away from lambing. Her udders are ssslllllooooowwwllllyyy bagging up. But today I noticed some significant change in her vulva, it's swollen. I know that ewes start to get themselves and their bodies ready for lambing but so soon? Or is my guesstimate off? I know that you love pictures so here you are.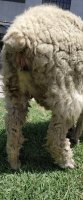 Any insight would be appreciated.