Joined

Jan 10, 2022
Messages

244
Reaction score

404
Points

143
Location
I know it is the same thing every year…year in year out…l know that sheep do what sheep are gonna do….BUT IT'S THE FIRST ONES OF THE SEASON! WOO! HOO! Boy! CDT, colostrum feedings, lambing jug, paint mark the family mark….so much to do..oh! Can't forget to trim the umbilicus and douse in Betadyne! Tomorrow if they are doing well the castration and tail docking…maybe wait to the third day just before letting them out of the jug…..I'm always a first time Papa! Nervous Nelly and quivering with excitement. My wife giggles at this silly 60 year old skinny farmer running around like a head with his chicken cut off but it always seems there is so much to do at once that even when I'm ready it's a rush!
I ALMOST FORGOT!!!!! NAMES!?!?!?!?!?!?!? Any suggestions? This is the meat flock and not the purebred pen so they don't have to be regal names…just family names! The bulk of these lambs are presold as meat flock breeders but since I introduced the parents and helped with the weddings and honeymoons…..I should get to name them, right?! My children and grandchildren get the first three ewes so THEY get naming rights for them….a grandpa's duty to teach wise naming skills and all….
Okay…got all my sillies out…my excitement in turning to tiredness and the doubling of chores…but I had to announce the beginning of our lambing season!
Meet the fam. Marigold, a Leicester Longwool (father: Maelstrom (who lives up to his name) a Blue Faced Leicester. The little girl looks JUST like Dad! (Don't mind the barn that will get painted this year!) here they have been cajoled into the lambing jug so that bonding and feeding rituals can be established! Momma looks like there could be three more lambs hiding out in her but she is just 'healthy' and ready to nurse. She successfully pushed out the placenta and is done lambing!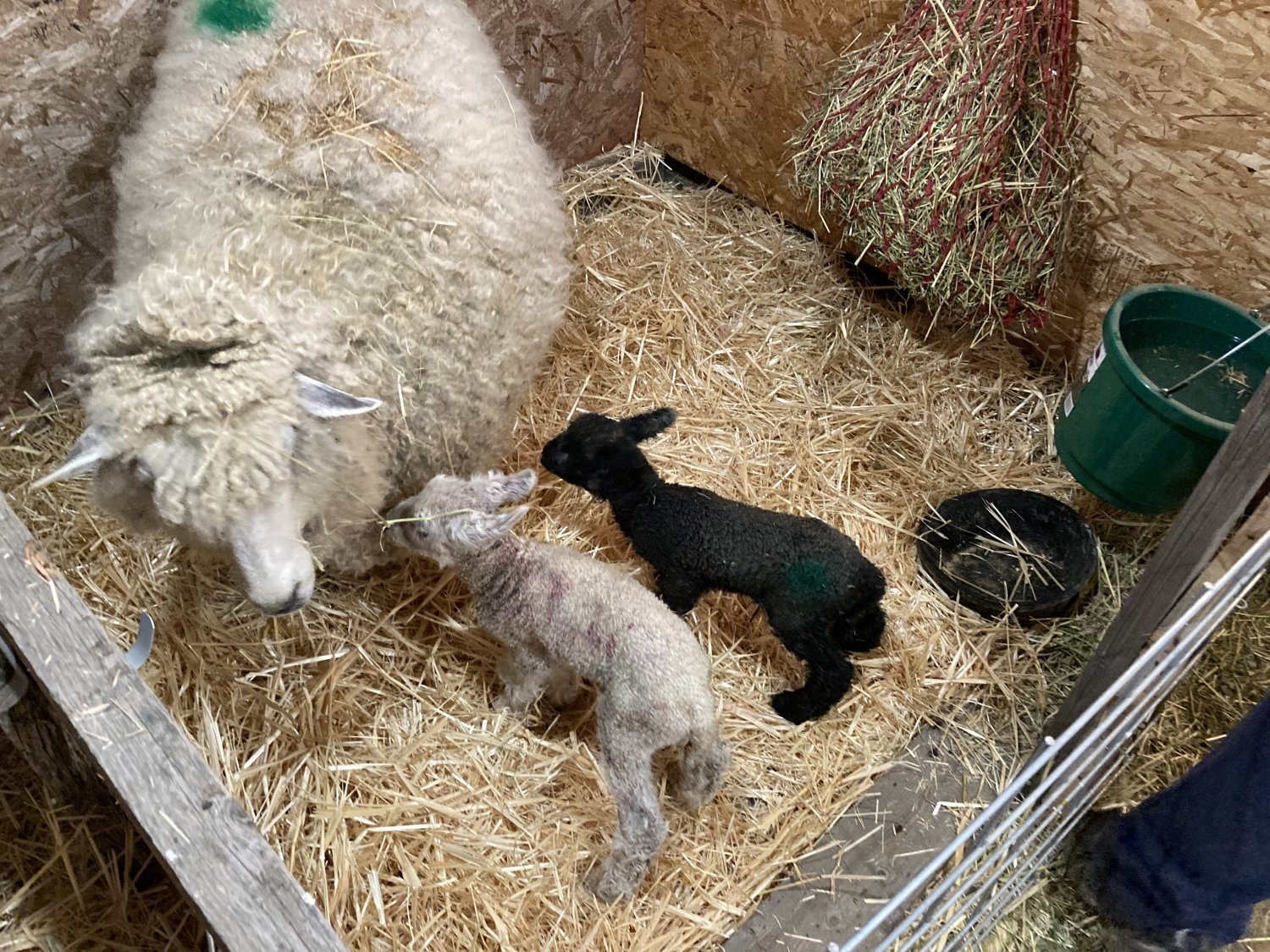 here is where they were born…out in the yard behind the barn.