Halter and trick training
Things you can teach your goat
Lay down
Down
Touch
Bow
Shake
Halter braking
Putting there own head in the halter etc
There are pictures of what I mean.
I start with what I call ground basics.
This is tasty our mini Nubian.
As you can see in this pic he is getting ready to do what I said, touch, That is when I say yes or click the clicker.
1
Step 2
Down
Start with lightly grabbing one leg and bending it in. As soon as he starts to obey click or say yes. In the 1 pic you can see I am grabbing his leg and bending it in.
2
View attachment 19262
Step 3
Lay down
Once they can do down on command then you can start on lay down.
Take a handful of food and put by there mouth, Once they get into a down potion, say lay down don't open your hand till they lay down competently. Then reward.
4
Step 4
Get-up
Once they do lay-down on command than you can move onto get-up. This is when touch comes in handy. Put your hand to where tehy have to stand up to touch your hand. Once they get-up when you say touch then move to saying get-up. In this pick he is starting to get-up. You can't really see my hand up my hand is up in the air.
5
Step 5
Starting halter training. Putting his own head in the halter
Put the halter by there face and pull it half way on them once they are ok with that then put it on there head all the way. As you can see he is pushing his head in the halter on his own.
6
7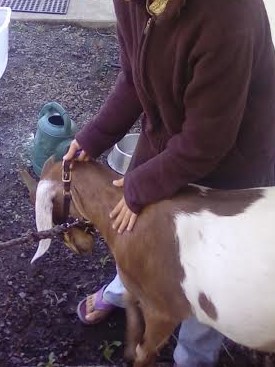 Step 6
Halter breaking
Tie them up to a tree and porch railing etc. They may fight a bit but will quickly learn they can't get out of the halter. No pics for this one.
Step 7
Lead braking
Start with saying walk. As soon as they take one step reward them. This is a very important step. Eventually start going father and farther between treats. In the picks you can see I am going farther and father.
8
9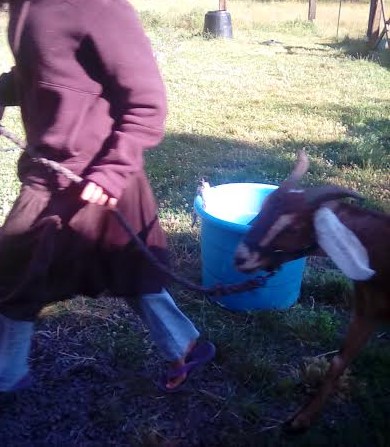 Step 8
Halt/Stop/Wait
Have him touch your hand. He will stop walking to touch your hand so it slowly works in there brain what your wanting. Once he stops to touch then slowly start saying halt stop etc. You can see he has his nose on my hand.
9
Things that will help you get great success.
Go slow
Make it fun
Have treats
Be bouncy about it.
Feel free to message me if you have any questions or need help.