True BYH Addict
Administrator
Joined

May 21, 2009
Messages

265
Reaction score

137
Points

223
Spoilers - you either love them or hate them.
For those of you who don't know: A spoiler is a bit of information that another person may or may not want to know, for example a big plot twist in a movie. Here's an example:
Can you believe that Darth Vader is Luke's father!?!?!?
For those who hate them, we feel for you! That's why we are proud to introduce to you one of the newest feature of our forum, the Spoilers Feature.
Let's not "spoil" someone's journey of discovering something amazing by using this new feature.
Here is how:
1.) In the editor window, enter the text/message that you want to convert into a spoiler.
2.) Highlight the text that you want to convert into a spoiler and click the "Insert" button. A drop-down menu will then appear. Click the "Spoiler" option.
3.) The "Spoiler" window will then appear. You have the option to enter a title for your spoiler. However, you can also leave it blank if you want to.
The first picture shows that we have entered a title for the spoiler.
We have also created another text wherein we won't be entering a spoiler title. Either way, your spoiler will still be hidden.
4.) Once your post is published, it will look like this.
5.) If you'll click on the "Spoiler" button (yes, the green one), the content will appear. You can also re-click it to hide the content.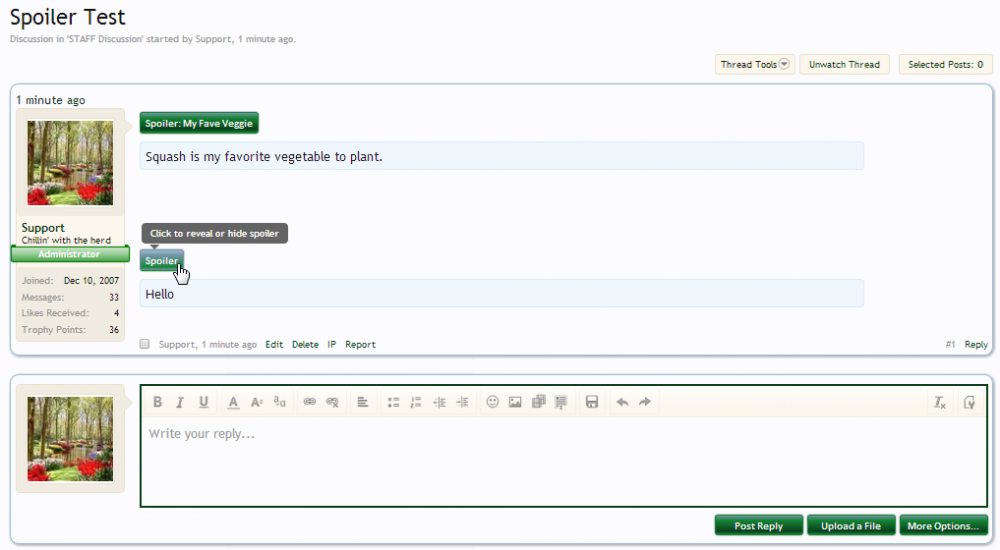 You can also check out this tutorial video here: http://vimeo.com/84587188
Hope that this will be useful to you!
Let us know what you think about it.
Last edited by a moderator: