Joined

Mar 18, 2013
Messages

10,173
Reaction score

35,975
Points

793
Location
We have been members on BYH for awhile now and have posted pictures in several different threads about our home and progress (or lack of in some cases). So rather than bounce all over the place I'll post the remainder in this thread until we are actually there full time.
Our little 19 acres is in the beautiful foothills of Giles Country in southern Middle Tennessee abvout 15 miles north of the Alabama state line. We are due north of Huntsville, Alabama and due south of Nashville.
My wife Teresa and I have always had dreams of finishing life on a little farm but we were kind of slow to get started since we didn't get together until 6 years ago. We were both die hard never get married single people at the time but we soon saw that things change. I have been commuting between Charleston and Tennessee since we started the project but had originally planned to be fully retired over a year ago. That has slid to October of this year. The company made me a generous offer to stay with them till this project is over at the end of the year. They have been good to me for the 20 years that I have worked for them off and on in spite of quitting on them twice.
I was an Air Traffic Controller in my Navy career and after I retired from the military I became a contractor for a company that does system analysis for ATC systems. A little distance from our future plans but I grew up on a farm and want to wind down the same way.
Our place hasn't been part of a working farm but was originally built as a deer camp. There has been a bunch of "firsts" for us in doing the renovation but we are finally at the point where a few dedicated days will finish the interior.
I'm attaching a few pictures of the latest outside project which is an enclosed porch. The "before" picture is of the driveway before we excavated to divert water that became a small river during a storm and it all ran under the house. The retaining wall is 4' high at the far end but we had to move a couple of tons of rock before the wall and drive could be put in. At our age I wasn't even going to act like that was something I wanted to tackle so I hired that work done.
We have really been lucky with the network of people we made when we first moved in. The locals accepted us right away and we went to having no support to sometimes more than we need but they are super people. We have a contractor who will arrange to have things done for us or to provide a helper(s) if we are doing something on our own but want help. We don't push schedule so he uses us as a side job and makes it good for all of us dollar wise.
I have been a wood worker for many years and my wife is enjoying learning how to enjoy it also. I made most of the wooden items in our house and we just finished the base cabinets for one of our storage pantries.
Our long term plans are to raise sheep for our own consumption and sales along with a couple of dairy goats. They weren't in our original plans but all the enablers on BYH has not so subtly convined us they need to be a part of our place.
I'll quit being windy and post the pictures - the ugly shed on the side of the house held all of the water filtering stuff that didn't work and was about ready to fall down on it's own. It wasn't attached to the house so I put some cable around it and pulled
it over with my truck.
The plan was to retain the metal roof that was on the house when we bought it but that plan didn't last long. We knew we were going to enclose the porch and bought enough shingles to do the add-on.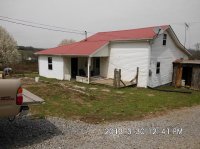 Last edited: