Joined

Apr 23, 2011
Messages

706
Reaction score

2,542
Points

308
Location
I am getting ready to start fixing the fencing at our new property. I have a several questions regarding fencing vs neighbors animals and human kids climbing the fence. We've already had a couple hundred dollars worth of stuff stolen.
What I've found so far:
Texas
- purple paint = no trespassing posted
- open range except US and State highway frontages and counties or municpalities that enacted stock laws
- There is a legal standard for "fence-out" but not "fence-in" fencing.
Johnson County
- stock law to fence in horse, mules, jacks, jennetts, and donkeys.
Municipality
- My property is outside city limits.
- If my animals get outside of fencing and cross county road then they are "At Large" inside city limits.
The property line between myself and neighbor with donkeys has 2 fences run in tandem. Both are woven wire and barbed wire on tposts. Her donkeys have trampled it reaching good grass in my pasture.
Can I put hot wires on my fence pointed to her side to keep donkeys from stepping on it? Or do they have to stay on my side?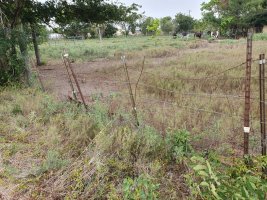 The neighborhood kids have been using above ground pool ladder to climb the fence and enter property for who knows how long. When we closed on property I threw ladder back into neighborhood. They put the ladder back and I removed it again this weekend. I want to break them of habit of randomly entering property BEFORE I get sheep and LSG dogs.
What would be next step besides bilingual "No Trespassing" signs? Will I ever be able to put electric along this fenceline?