Joined

Apr 23, 2011
Messages

550
Reaction score

1,886
Points

288
Location
I haven't been on alot recently because work has been long days at the far site including the weekend. I stole last Saturday off and took Cassandra to North Texas Fair to see the sheep shows. I also traded my Hyundai Ioniq for a Toyota Highlander. I got tired of getting stuck in the mud.
I got the 3 day weekend off just in time to be sick. There is a bug making it's way thru the family. I was lying down and Cassandra came running in saying a "A SHEEP IS CAUGHT IN THE FENCE!!" Husband went to check and found Pepper had put her head thru the e-net fence, got stuck, and choked herself.
They had only been out grazing for 2 hours so she couldn't have been dead long. I sucked it up and got ready to process her. Husband stuck a 2x4 between two trees in shade and called for reinforcements. By time my sister in law and het husband got here with tools, I had Pepper bled out.
My amazing family helped me get everything processed and in fridge in 2.5hrs from time of discovery. BIL was giving me tips as we went. First time I've processed something larger than chicken or rabbit.
Pepper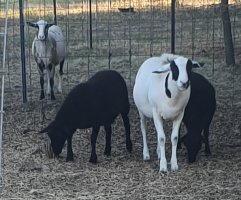 on left
on right