Joined

Aug 27, 2022
Messages

1,153
Reaction score

3,972
Points

273
Location
Morning meeting....
Since it rained all yesterday - ~1/2 inch!! the sheep stayed in the barn. Today was the first day the new sheep were outside. Let the oldies out into the pasture, closed the corral gate and let the new ewes out. They weren't too sure at first, just peeking their heads out and then slowly making their into the corral. THEN - the oldies came up to the gate - "whacha doin? who are you?" Pretty cool to watch. Interesting to note that the "matching colors" did the nose to nose first. Black to black, tan to tan, white to white. After that it was all "let us be together".
Without the oldsters > I < herded the new ewes back into the barn - first time was a bit time consuming - making me feel like one of the BC's at Meeker at the pen

. First time took the longest (remembering fast is slow and slow is fast). After that herding them back into the barn was easy peasy.
Also part of the morning meeting was Obi Wan. I swear the look on his face was "Christmas came early". Yeah - he saw them in the stall when they got here, but being in the corral and him on the other side of the fence was icing on the cake. Their reaction to him both when the oldsters were there and when they were not, was perfect I could not have dreamed of better. No bolting, no running, no "popcorn".
Yes, he was on the >other side< of the fence, but nose to nose close.
After a bit Obi would work the fence line - similar to the way he works sheep in a gaze area. YES!!
Everything was so calm and easy. I ~almost put Obi in the corral to move the new ewes around some. They are not "dog broke" sheep - so I want to do things slowly - no running no chasing. Obi is the right dog for this. Also reminding myself he is just recently back to "light duty" work after breaking a toe. I decided to stick to my plan, don't rush things. I sat down and just watched. I LOVE that. It is sooo calming. I've missed taking the sheep out to the meadow to graze - standing and watching sheep and dog together just "being" and doing what they do.
Have a great one everyone.
First meeting
Obi Wan joins the meeting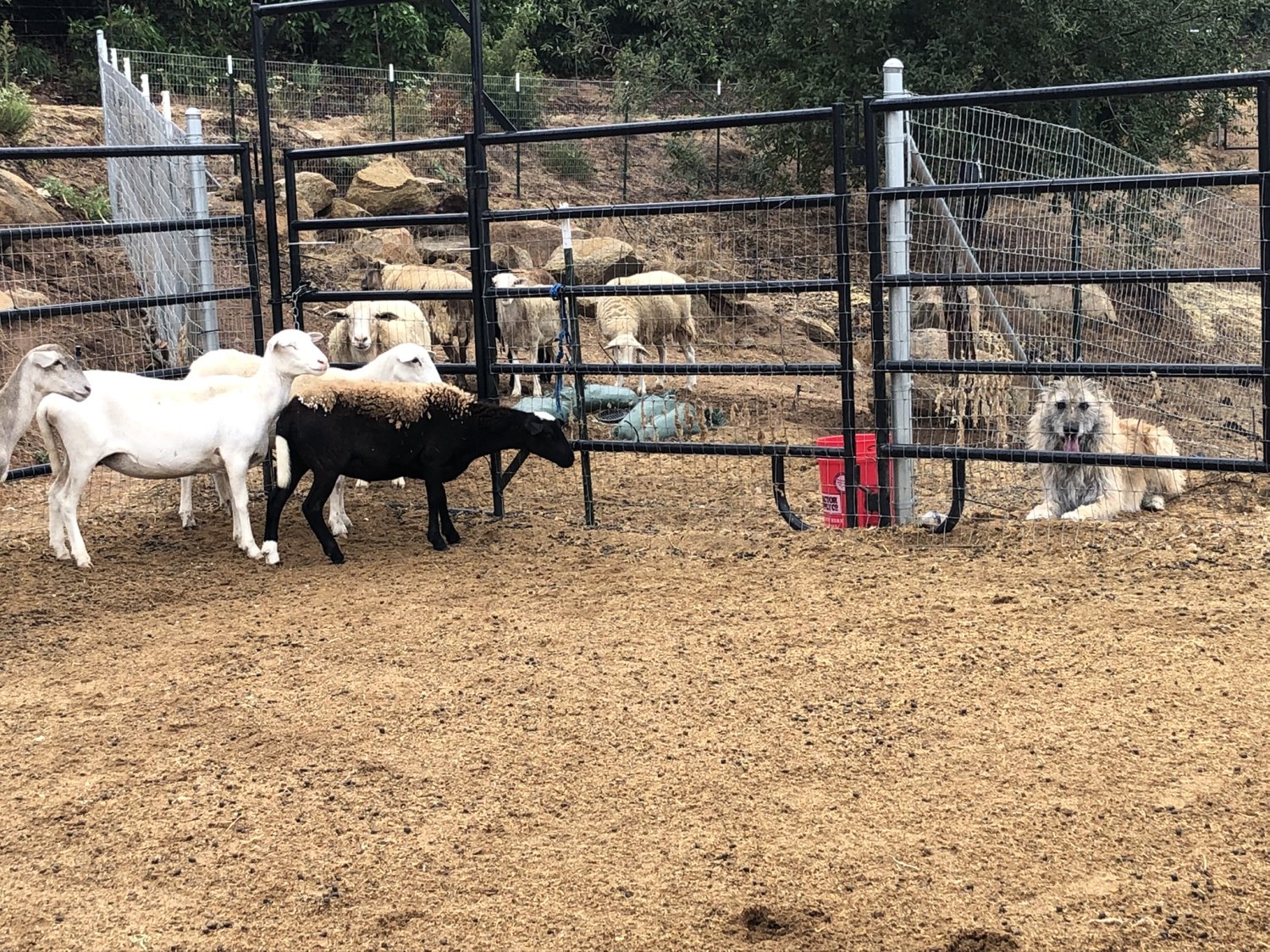 Watching the corral from my computer - got to love cameras