Coy does have a lovely smile! Just as lovey as her new friend Dhole (type of wild dog) but I'm calling her Doll for short lol
Yeah…I did a thing…I have my hay in and everything just sort of lined up perfectly for this little lamb to join the crew.
Doll is a pure Finn. I could even register her if I feel like doing the paperwork. Finn, Jacob, Scottish Blackface, and Icelandic are my favourite breeds based on my research, but Finns are the only ones who are polled, so she's my new baby!
Here she is with Coy. She's almost as big already, which is great.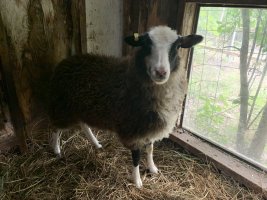 She really reminds me of Kit's little ewe lamb that I wanted to keep, but without the psycho temperament! I'm very happy with her so far.
I'm thinking if she does well and I love her and her breed in general, my next ram will be a Finn and we can go from there.