A few days ago, I noticed Foxy had a tiny bit of swelling on one of her teats. The next day, her udder was crazy full and she was kicking off her lambs.
It's the right teat, so hardly visible, but nice udder, right? I think the attachments could be a bit better, but still pretty good. It's the front udder attachment that seems to be a bit lacking.
Woolfie has tiny teats, which is one of the reasons I think my hands get so sore. But her attachments are, I think, excellent. (I've mostly learned what to look for from reading/seeing pics of goat udders on here, so I could be way off.)
Anyway, looks like one of Foxy's lambs gnawed on her teat. Like, three little cuts in a row. I pulled the boys and milked her out enough to make her slightly more comfortable and make sure she didn't have/doesn't develop mastitis. Hopefully she dries off okay. Her one ram lamb (the sweet bottle boy) went to his new home today. He'll be a pet, yay! I wasn't sure I could eat him, honestly. He was so cute and sweet! Glad he's got a good home
Waiting to hear from a hay guy regarding a few small bales. If it falls through I could get another bale of haylage. My grass is finally growing, but I'd like to give it a bit longer to really establish itself and I only have a few days of haylage left. DH also has plans for next week, so they'll need to be inside while we go out.
More feed it is
Other than the little ram who went today, there's been little to no interest on my ads. Almost had a really nice group sold, but they decided they didn't want to shear, so they're looking into getting hair sheep instead. Don't blame them. That's the direction I initially wanted to go in for the same reason back in the day.
Had Dingo out the other day and he was a perfect gentleman. He also proved that the ground is still a bit soft for full time grazing since he turned his kennel into a mud pit! The other reason to give the grass/ground another week. Ugh, such a late spring!
Gotta shear him soon. Look at that beautiful fleece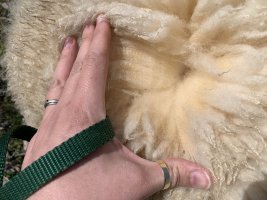 I think that's about it. DH is out golfing today, but I'm hoping it'll still be nice and light enough out that I can get Woolfie shorn when he gets home.
Kittens are doing so good